American Pop
(1981)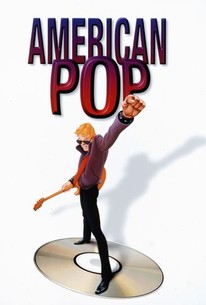 Movie Info
The rise and growth of American popular music through the 20th century is reflected in the lives of four generations of one family in this animated drama directed by Ralph Bakshi. Zalmie (voice of Jeffrey Lippa), a Russian Jew, emigrates to America, and tries to struggle along as a comic and musician in vaudeville, until an injury suffered in World War I ends his singing career. Zalmie's son Benny (voice of Richard Singer) inherits his father's love for music, and when he grows to adulthood, he joins a jazz combo as a pianist; his career is cut short, however, when he's killed while fighting in World War II. Benny's son Tony (voice of Ron Thompson) is also bitten by the music bug and is determined to make his mark as a songwriter; he becomes involved in the Beat poetry and music community in San Francisco, and later falls in with a pioneering psychedelic band. Along the way, Tony fathers an illegitimate son named Pete (voice of Eric Taslitz), and ends up becoming Pete's guardian in New York City without realizing he's the boy's father. After Tony's death, Pete supports himself by dealing drugs, while struggling to make his dream of becoming a rock star a reality. Ralph Bakshi achieved American Pop's unique look through a process called "rotoscoping" -- shooting the scenes with live actors, and then tracing their movements onto animation cells.
Critic Reviews for American Pop
Audience Reviews for American Pop
½
This movie is just a retrospective on American music in cartoon form, I've always wondered why Bakshi made this movie. It's boring and uninteresting.
½
In an hour and a half American Pop covers a stunning amount of territory. both thematically and narratively. This might be the most polished animation in a Bakshi film, with a fantastic soundtrack and vibrant style.
½
I really liked this film. I found it interesting and the music is fantastic to listen to.
Marion Ravenwood
Super Reviewer
American Pop Quotes
There are no approved quotes yet for this movie.