American: The Bill Hicks Story
(2011)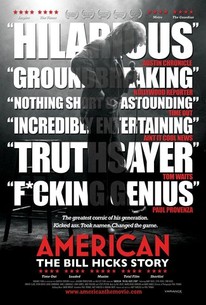 TOMATOMETER
AUDIENCE SCORE
Critic Consensus: A treasure trove of archival material and interviews, American: The Bill Hicks Story is an exuberant celebration about a unique, sorely missed voice in comedy.
American: The Bill Hicks Story Photos
Movie Info
15 years after his death, Bill Hicks is now more popular than ever, and is widely seen as one of the best comedian of the modern era. However, in America, where he challenged institutions and accepted ways of thinking, he suffered censorship and was never truly recognized by a wide audience. In the country which enshrines freedom of speech in its constitution his story is truly about what it means to be an American. -- (c) Variance
News & Interviews for American: The Bill Hicks Story
Critic Reviews for American: The Bill Hicks Story
Audience Reviews for American: The Bill Hicks Story
"The greatest comic of his generation. Kicked ass. Took names. Changed the game." American: The Bill Hicks Story is a new favorite when it comes to documentaries, especially biographical documentaries. I loved the approach, with using voice over interviews over top of some great photo animation. The film is fast paced and extremely entertaining, while also being very down to earth, frank, and intelligent. We see Bill Hicks for what he was at different parts of his life as told by the ten people that knew him best from his mother to his siblings to fellow comics and friends. If you're a Bill Hicks fan, this is required viewing, and if you're not(as Bill would say), kill yourself. Bill Hicks is easily the most interesting stand up comedian that I know of. While today's comics pepper us with the same bullshit, he was able to take that bullshit and throw true meaning into it. There's a part in the film where one of his friends says that at heart he was an activist, and if you listen to what he's saying, there's no denying that fact. He had beliefs and he voiced them through his humor. The film chronicles Bill's life from an early age when he started really getting into comedy. We see his progression from a clean-cut, no profanity, no drugs and no drinking teenage comedian to his time with drugs and alcohol to his sobriety to his post cancer stage. Through this progression his comedy always changed. At first he was just talking about his parents and school. Then when he got into drugs and alcohol he was more of a shock comedian, and then when he got sober he became, as one interviewee said, "more than just an above average comedian." Bill Hicks is an easy source for a documentary and American nails his life with brilliant precision. I loved every second of this and highly recommend it to anyone. If you're a fan, watch it. If you've never heard of him; this is a great place to see what he's all about and it should make you into a fan. It's a great tribute, a great film, and just a pleasure to watch. 
Melvin White
Super Reviewer
The life story of the highly censored and controversial Comedian Bill Hicks, which is deeply detailed with contributions from friends, family and fellow comedians. Bill Hicks seemed to be a love it or hate it type character, whose "truths" and "thoughts" were either not what everybody would think, or were what everybody would think and not say. His humour was observational, deep, but highly amusing and often near to the knuckle, he questioned authority and practiced freedom of speech. . He threw Conspiracy theory's around and shared his stories of experimentation, all of this is captured, by those who knew him the most.
Lady D'arbanville
Super Reviewer
½
Friends, family and peers on the stand-up comedy circuit share their memories of the late Bill Hicks. Well, there's not a lot to say about this. If you like Bill Hicks, you'll enjoy it a lot; if you don't like Bill Hicks, it probably won't convert you; and if you've never heard of Bill Hicks, this would make a damn near perfect introduction. Don't be put off thinking this is gonna be just another boring talking heads documentary; featuring some of the most ingenious photographic manipulation I have ever seen, it's considerably more cinematic than you might expect.
American: The Bill Hicks Story Quotes
There are no approved quotes yet for this movie.