Americatown
(2011)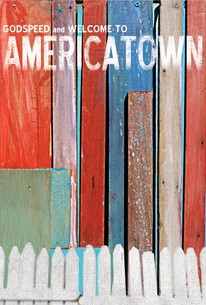 AUDIENCE SCORE
Critic Consensus: No consensus yet.
Movie Info
Godspeed, and welcome to Americatown, home to Head Mountain, Letter Sign on the Hill, and Giant Gap in Earth. Celebrated for locally made aboveground cars, an almost infinite variety of breakfast cereals and unbridled, bald-faced greatness, this little burg of exactly 1,000 citizens is the only place worthy of you. That is, until a single spilled cup of coffee sets off a cataclysmic chain of events destined to test the town's gumption. Can the Americatonians pull together and weather the madness, or are they fated to crumble like so many tiny empires before it? For their second feature, the Superkiiids! took just two thousand bone-doggies, four folks and a minivan to explore and exploit the fruited plains, purple mountains, mythology and culture (pop and otherwise) of the United States of America, vision-questing into existence its microcosmic, hyper-realistic stepbrother heretofore known as Americatown! Land of the free-radicools, home of the bad-to-the-bone... Get on the bus. Also screening during the run is Kenneth Price's hilariously caffeinated 2008 debut, LIGHTNING SALAD MOVING PICTURE, a Superkiiids! origin story (of sorts) in which the boys are woken up each morning by groundbreaking filmmaker Robert Zemeckis to be briefed of their daily assignment. Today's mission? Write, direct, produce, cater and possibly star in Part IV of the epic $400 Billionmillion worldwide U.S. grossing, global-networking, time-shredding franchise of the BACK TO THE FUTURE films. Will they defy steam engines, budding romances, classically trained villains and Meankiiid's 'tude in order to create their life's work for the day? -- (C) Official Site
Critic Reviews for Americatown
Audience Reviews
There are no featured reviews for Americatown at this time.
Americatown Quotes
There are no approved quotes yet for this movie.