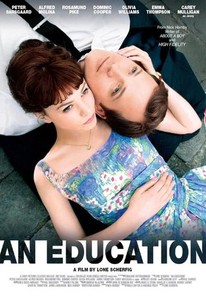 An Education
2009, Drama, 1h 40m
197 Reviews
50,000+ Ratings
What to know
critics consensus
Though the latter part of the film may not appeal to all, An Education is a charming coming-of-age tale powered by the strength of relative newcomer Carey Mulligan's standout performance. Read critic reviews
Where to watch
Rent/buy
Rent/buy
Rent/buy
Rate And Review
Movie Info
Despite her sheltered upbringing, Jenny (Carey Mulligan) is a teen with a bright future; she's smart, pretty, and has aspirations of attending Oxford University. When David (Peter Sarsgaard), a charming but much older suitor, motors into her life in a shiny automobile, Jenny gets a taste of adult life that she won't soon forget.
News & Interviews for An Education
Audience Reviews for An Education
One of the weakest Best Picture nominees in recent memory - though it's no Extremely Loud & Incredibly Close - An Education tells of a hard lesson learned while growing up but falls short of the truly affecting story it was shooting for. And while Carey Mulligan is very good in her role, and Alfred Molina brilliant as her stodgy father, I think this movie's downfall can be pinned on this movie's leading man - if not Peter Sarsgaard himself, then the character that was written for him. He's not overly attractive, or smooth, or rebellious, or sexy, or... anything. So why does the young woman fall hopelessly in love with him? To an extent, I can see this as the point - that we'll be blind to flaws when we're infatuated, particularly when we're young - but there is nothing compelling about him not only from a love-interest standpoint, but also from an audience standpoint. The various strange things he does throughout the film don't lead anywhere in terms of setting the stage for a logical surprise ending (and I say surprise ending cautiously: I never see endings coming, I'm not sure how shocking it truly was). It's hard to play an ambiguous character, but as my interest in the lead male waned, so too did my desire to finish the film. The little details along the way didn't build suspense, they just fizzled. It's a decent film that captures a Britain in transition and has the bones of a good story, but more a nuanced lead male role could have made it much better.

Everything felt perfect while watching this film. The camerawork, the settings, the acting, the characters, and the script all felt picture perfect, kind of like staring at a work of art and not really knowing what to say. As a young girl works hard to attend Oxford School for English, she bumps into a man every now and again, eventually falling for him. He appears 40, as she states she is 17. This movie is definitely not for everyone, and I did feel uncomfortable watching it sometimes, but I can't deny that it is wonderfully directed and well-performed. Carrey Mulligan is pure and elegant in this film. In the conclusion, you will find yourself invested and ready for anything that is about to happen. "An Education" is great!

Based on the real life story of writer Lynn Barber, "An Education" tells the story of a 16 year old school girl who is seduced into a jetset lifestyle by a wealthy older man. The older man (Peter Sarsgaard) claims to be in his late 20s, but is more likely in his late 30s. He takes her to fancy restaurants, classical music concerts and fancy art auctions, all things her middle class, stick-in-the-mud parents (Alfred Molina, Cara Seymour) would never do with her. When news of her engagement to the older man reaches her school, her chances of entering Oxford (her, or should I say, her parents life long goal for her) are endangered, and the girl must choose between a boring life and an exciting one. Why would this character work so hard all her life for a goal if she wasn't really interested in pursuing it? She screams at her teacher and principal that she doesn't want to waste any more of her life studying boring dead languages only so she might earn a degree and go into some boring field of work that she might waste away in it until she dies. It's a rather emphatic statement, and one that makes almost no sense when the big "change-of-heart" ending comes about. At best, she's a directionless waif who bases her life choices on what others tell her to do, at worst, she turns out to be the worst kind of insipid girl (completely contradictory to what the film describes her character as) who makes life choices based on a self-acknowledged phony romance. That a girl portrayed as such a strong character for the majority of the movie should have a complete character breakdown in the final act does not inspire me or make me feel enlightened. Real life events were changed for dramatic effect, but this dramatic effect is counter to the character established. Why? The change serves no real purpose to the story, other than to weaken it. In fact, An Education lacks overall, never rising above the storyline that's been done before (a film set in the sixties that's actually a throwback to similar films from the sixties: "Georgie Girl", etc.). Uninspiring.

An Education is a charming and mature coming-of-age romance with an incredible breakthrough performance from Carey Mulligan and other great performances from Peter Sarsgaard and Alfred Molina. The film is alternately joyful and poignant, but is ultimately a very touching story about Carey Mulligan's Jenny growing up and experiencing the ups and downs of love and life. The ending bravely defies that which we've come to expect from similar films, creating a welcome feeling of originality that's all too uncommon from coming-of-age films like this. An Education stands out as being an exceptional entry in this genre, and one that is as delightful and enjoyable as it is affecting.
See Details