And Everything Is Going Fine
(2010)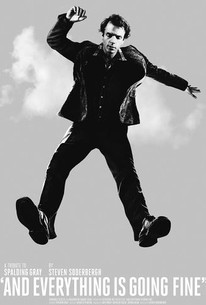 TOMATOMETER
AUDIENCE SCORE
Critic Consensus: Even if And Everything Is Going Fine isn't one of Soderbergh's more commercial efforts, this collection of judiciously edited performance footage of the late monologist Spalding Gray gave the director a chance to show a rarely-seen side of his artistry.
And Everything Is Going Fine Photos
Movie Info
AND EVERYTHING IS GOING FINE provides an intimate look at master monologist Spalding Gray, as described by his most critical, irreverent and insightful biographer: Spalding Gray. Director Steven Soderbergh, who collaborated with Gray on the film adaptation of his celebrated Gray's Anatomy (1996), has distilled 25 years of rare and revealing footage to construct a riveting final monologue. There are glimpses of Gray's father and of his son Forrest (who provides soaring music for the end credits), but for the most part this is an inspired one-man show, a bittersweet display of the writer-performer's playful and embattled intelligence, his gift for tracking universal truths by looking himself squarely in the eye. "At the very first meeting I had with Steven to discuss making the film, he said 'I want Spalding to tell the story of Spalding,'" notes Kathleen Russo, Gray's widow and one of the producers of the film. "After that, there was no question in my mind about anyone else directing this movie. So I handed him 120 hours of Spalding footage, which became a 90-minute documentary, all told by Spalding through the eyes of Steven Soderbergh. This is a labor of love between the director, the editor, the producers and the family of Spalding Gray-a collaboration whose main goal was to have one more story be told by one of the most unique monologists of our time." Spalding Gray is most celebrated for his series of 18 monologues, including Sex and Death to the Age 14; Booze, Cars and College Girls; A Personal History of the American Theater; India and After (America); Monster in a Box; Gray's Anatomy; It's a Slippery Slope; Morning, Noon and Night and the Obie Award-winning Swimming to Cambodia. He performed with The Performance Group and The Wooster Group, and on Broadway in plays by Gore Vidal, Thornton Wilde and others. In addition to the film adaptations of his own works-among them Swimming to Cambodia, directed by Jonathan Demme, and Monster in a Box, directed by Nick Broomfield-Gray appeared in more than 40 films, including Roland Joffe's The Killing Fields; David Byrne's True Stories; Soderbergh's King of the Hill and John Boorman's Beyond Rangoon.-- (C) IFC
Critic Reviews for And Everything Is Going Fine
Audience Reviews for And Everything Is Going Fine
A fabulous tribute to a master of monologue. The American version of Stuart McLean..albeit it a Stuart McLean who is actually witty and has stories to tell that are actually interesting.
John Ballantine
Super Reviewer
On the subway to see the touching and funny movie "And Everything Is Going Fine," I noticed a lot of people wearing holiday costumes which I had never seen before and most of them seemed to get off at my stop. A friend thought this might have something to do with a massive pub crawl which a lot of crazy behavior including a slide down a bannister at the World Trade Center Path station would seemingly confirm. Now this is the kind of story that Spalding Gray(1941-2004) would tell in his monologues in front of an audience, while sitting down at a table with maybe a glass of water or a notebook.(For "Monster in a Box," he had the mother of all unfinished manuscripts. I still would like to know about the Playboy magazine, by the way.) Like a lot of people, I came to his work through the film "Swimming to Cambodia," a wonderful retelling of his experiences in a small part in "The Killing Fields." As one reviewer noted, "never had so much been made of so little." And I was lucky to see him perform "Gray's Anatomy" and "It's a Slippery Slope" in person at Lincoln Center. With "And Everything Is Going Fine," Steven Soderbergh(he directed Gray in "King of the Hill" and filmed "Gray's Anatomy") stitch them together in a single autobiographical narrative with additional talks where Gray is interviewed and he interviews other people, including one where he talks with his father. Through it all, Gray proves his enormous talent in detailing the everyday experiences of people he came across. Of deeper interest is the therapeutic service the monologues may have served him as his mother's mental illness and suicide hangs over him, allowing him to explore the subject of depression which is so rarely talked about.
And Everything Is Going Fine Quotes
There are no approved quotes yet for this movie.