Ano natsu, ichiban shizukana umi (A Scene at the Sea)
(1991)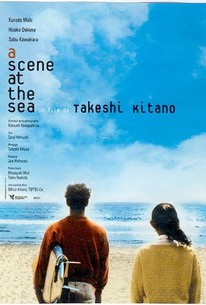 AUDIENCE SCORE
Critic Consensus: No consensus yet.
Ano natsu, ichiban shizukana umi (A Scene at the Sea) Photos
Movie Info
Takeshi Kitano -- who, along with directing some of the most acclaimed films of the 1990s, appears on four television shows, writes a number of newspaper columns, and somehow finds the time to crank out a book or two a year -- takes a break from his trademark two-fisted yakuza sagas such as Violent Cop to spin this restrained and very quiet drama about a deaf young man named Shigeru (Kurodo Maki) and his girlfriend, Takako (Hiroko Oshima). Shigeru, a garbage collector, happens upon a discarded surfboard, which begins his fascination with the sea. ~ Jonathan Crow, Rovi
Critic Reviews for Ano natsu, ichiban shizukana umi (A Scene at the Sea)
All Critics (4) | Top Critics (1) | Fresh (4) | Rotten (0)
Tethered to only the slightest narrative, the film evokes the experience of early love and disappointment in a manner both sharp and tender.
Having directed two crime films, Japanese director Takeshi 'Beat' Kitano downshifted in 1991 with A Scene at the Sea, a simple and direct fable.
The film forces one to view it the way a deaf person sees the world.
Audience Reviews for Ano natsu, ichiban shizukana umi (A Scene at the Sea)
½
'A Scene At The Sea' is a practice in beautiful, saddening subtlety; it takes the minimalistic aspects of Kitano's earlier directorial efforts 'Violent Cop' and 'Boiling Point' and strips them of any semblance of violent threat in order to touch viewers in a different, yet very similar way. 'Mono no aware' is a Japanese term that refers to the impermanence of things and the quiet melancholy that accompanies such transience. This concept plays a heavy role in 'A Scene At The Sea (Ano natsu, ichiban shizukana umi) and is an important part of understanding the subtlety of director Kitano's work. The plot begins with deaf protagonist Shigeru finding a surfing board whilst carrying out his job as a garbage man and deciding to fix it. Accompanied by his similarly disabled girlfriend, Takoko, Shigeru slowly begins to fall in love with surfing and looses sight of both his job and Takoko's affection. Due to their being deaf not a single word is spoken by either Shigeru or Takoko throughout the film's entirety, allowing Kitano to focus on the unspoken beauty of situations and the transient nature of existence. Shots are still and long (often lasting for minutes) and cinematographer Katsumi Yanagijima frames every shot as if it's a painting hanging on the wall of a prestigious gallery, Joe Hisashi's poignant soundtrack is used heavily throughout adding a sense of drama usually only achievable through words and Kitano's eye for visual majesty is at it's best. Other then the aforementioned aspects it's hard to describe 'A Scene At The Sea' in a justifiable manner, there's a couple of surfing competitions, a sense of calmness, and no real substantial threat, but this is what makes it so powerful, and, ultimately tragic. It's more then just an ode to surfing, it's an ode to life.
Cameron Sherwell
Super Reviewer
½
You have to admire Takeshi Kitano's audaciousness....five minutes in, and i was thinking surely this isn't the whole plot... but yes, it was. A deaf Japanese garbage man learns to surf. That's it. But as with all his films, the joy is in the details and the spaces between the details - especially the silent relationship between Shigeru and his ever-supportive clothes-folding girlfriend. Joe Hisaishi's soundtrack, made up from leftover bits of TOTORO, is a charmer too..
½
A sweet love story and an ode to surfing without the violence that Kitano was, and is, notorious for. Even without a storyline centering around cops and yakuza, the film is distinctly Kitano. The central characters, Shigeru and Takako are deaf, and they do not utter one word of dialogue in the entire film. As with all of Kitano's films, this is one that makes the viewer slow down and take in the film's style and story. Kitano's trademark minimalism here results in a film that unreels as a series of snapshots of a perfect summer. Heartbreaking, uplifting and simply beautiful.
El Hombre Invisible
Super Reviewer
Ano natsu, ichiban shizukana umi (A Scene at the Sea) Quotes
There are no approved quotes yet for this movie.