Apocalypse Now
(1979)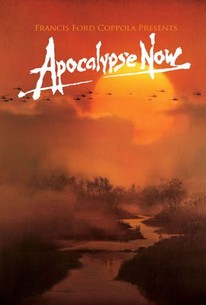 Movie Info
One of a cluster of late-1970s films about the Vietnam War, Francis Ford Coppola's Apocalypse Now adapts the Joseph Conrad novella Heart of Darkness to depict the war as a descent into primal madness. Capt. Willard (Martin Sheen), already on the edge, is assigned to find and deal with AWOL Col. Kurtz (Marlon Brando), rumored to have set himself up in the Cambodian jungle as a local, lethal godhead. Along the way Willard encounters napalm and Wagner fan Col. Kilgore (Robert Duvall), draftees who prefer to surf and do drugs, a USO Playboy Bunny show turned into a riot by the raucous soldiers, and a jumpy photographer (Dennis Hopper) telling wild, reverent tales about Kurtz. By the time Willard sees the heads mounted on stakes near Kurtz's compound, he knows Kurtz has gone over the deep end, but it is uncertain whether Willard himself now agrees with Kurtz's insane dictum to "Drop the Bomb. Exterminate them all." Coppola himself was not certain either, and he tried several different endings between the film's early rough-cut screenings for the press, the Palme d'Or-winning "work-in-progress" shown at Cannes, and the final 35 mm U.S. release (also the ending on the video cassette). The chaotic production also experienced shut-downs when a typhoon destroyed the set and star Sheen suffered a heart attack; the budget ballooned and Coppola covered the overages himself. These production headaches, which Coppola characterized as being like the Vietnam War itself, have been superbly captured in the documentary, Hearts of Darkness: A Filmmaker's Apocalypse. Despite the studio's fears and mixed reviews of the film's ending, Apocalypse Now became a substantial hit and was nominated for eight Academy Awards, including Best Picture, Best Director, Best Supporting Actor for Duvall's psychotic Kilgore, and Best Screenplay. It won Oscars for sound and for Vittorio Storaro's cinematography. This hallucinatory, Wagnerian project has produced admirers and detractors of equal ardor; it resembles no other film ever made, and its nightmarish aura and polarized reception aptly reflect the tensions and confusions of the Vietnam era. ~ Lucia Bozzola, Rovi
People Who Like this movie also like
News & Interviews for Apocalypse Now
Critic Reviews for Apocalypse Now
Audience Reviews for Apocalypse Now
Enjoyed the first two thirds of the movie more than the final third, but it was still very well done and well acted. Fat Brando is always nice, too.
Spencer Macklin
Super Reviewer
½
Coppola's all-time classic is an intense Vietnam War nightmare that sets out to portray with some of the most spectacular visuals the unfathomable horror and madness of war, following a man as he goes further and further in a harrowing descent into the very heart of darkness.
Carlos Magalhães
Super Reviewer
½
The way the film is shot is as searing as the Vietnamese heat; few films can compare to the intensity and quality of picturesque way it is shot accompanied with its great writing, and legendary direction.
Adriel Lim
Super Reviewer
Apocalypse Now Quotes
| | |
| --- | --- |
| Lt. Col. Kilgore: | They were going to make me a major for this, and I wasn't even in their fucking army anymore. Everybody wanted me to do it; him most of all. I felt like he was up there waiting for me to take the pain away. He just wanted to go out like a soldier. Standing up. Not like some poor wasted rag-assed renegade. Even the jungle wanted him dead. That's who he really took his orders from, anyway. |
| | |
| --- | --- |
| Photo Journalist: | The heads. You're looking at the heads. Sometimes he goes too far. He's the first one to admit it. |
| | |
| --- | --- |
| Capt. Benjamin Willard: | Part of me was afraid of what I would find and what I would do when I got there. I knew the risks, or imagined I knew. But the thing I felt the most, much stronger than fear, was the desire to confront him. |
| | |
| --- | --- |
| Photo Journalist: | There's mines over there, there's mines over there, and watch out those goddamn monkeys bite, I'll tell ya. |
Discussion Forum
Discuss Apocalypse Now on our Movie forum!