Arabesque
(1966)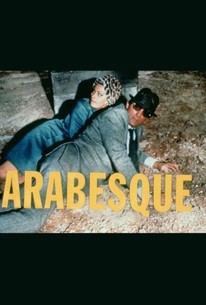 Movie Info
An American expert in hieroglyphics travels to Oxford to decipher a cryptic message. He soon discovers that the message is of great import to a series of foreign spies and Middle Eastern leaders and finds himself at the center of an international conspiracy in this espionage drama.
News & Interviews for Arabesque
Critic Reviews for Arabesque
Audience Reviews for Arabesque
'Arabesque' has the unfortunate handicap of being Stanley Donen's follow-up to the rather more revered and more polished 'Charade'. It's unfairly dismissed as a poor imitation of it's predecessor. That Gregory Peck is a poor man's Cary Grant and that the film is, at best, camp hokum and at worst lazy and boring. Even a Bond rip-off?! Well I say "lay off!" I will say I have never been a huge fan of Peck. I have always thought him cold and wooden. His granite façade remains impenetrable in nearly every film he is in. There is one or two exceptions (the campy but under-rated 'Duel in the Sun'). The label of poor man's Cary Grant is maybe a little harsh but sometimes rather fitting. But here, the character of Prof. David Pollock is a rather boring and very naive character. A 'wet fish'. The first time we see him he has driven his pupils to sleep with his dry lecture. He is a quintessential stereotype and Peck fits the part like a glove. Cary Grant, at this point in his career, was the very model of cool suave and knowing sophistication. He just wouldn't have been right for the part. He wouldn't have sent anyone to sleep and he certainly would have seen through Yasmin (Sophia Loren) from the outset. 'Arabesque' is not a pale imitation of 'Charade'. It's just a less subtle pastiche of Hitchcock than 'Charade' is. The line between pastiche and rip-off has always been a thin one. But even more so with Hitchcock because he invented a lot of the rules and techniques of the spy/suspense genre we now take for granted. 'Arabesque' and much of the spy/suspense genre films from the 60s, including the Bond films, are remakes or variations on the 'formula' perfected by Ernie Lehman and Hitchcock in 'North By Northwest' - the sophisticated hero, armed with witticisms if not a gun, the cool and beautiful heroine who is not what she seems and who beds the villain as well as the hero, the famous landmark set pieces and breakneck chase sequences, the charming villain surrounded by loyal & lethal henchmen and so on (Incidentally two Hitchcock regulars were considered when making the Bond films: Cary Grant was considered for playing Bond and Bernard Herrmann was considered for the score. Imagine how much more Hitchcockian Bond would have felt with those two elements in place!) And so 'Arabesque' feels more of a Hitchcockian pastiche than 'Charade' and is NOT the Bond rip-off it is dismissed as. The sequence at the racetrack is most definitely a send up of the racetrack scene in 'Notorious'. In 'Notorious' it's a scene about restraint and is played for tears. A heartbreaking Bergman is reduced to tears as she is rebuffed by a seemingly uncaring Grant. In 'Arabesque', Donen keeps it light and frothy; plays it camp - Peck and Loren overplaying the cloak and dagger routine by speaking in 'la-di-dah' clipped tones and Loren in an improbably large hat. Just as this is a tongue-in-cheek wink to 'Notorious', during the finale, where our heroes are chased into a field of green crops and are attacked by the villains with farming machinery, we get a joke on the crop-duster sequence in 'North by North west'. But these are only a couple of very obvious references. 'Arabesque' is so chock full of them, some more subtle than others, and that's why it's such fun. That and Sophia Loren looking utterly gorgeous - she is given a different Dior outfit for EVERY scene and when Peck meets her for the first time and utters "Hello... helloo, hello, hello helloooo!" you are with him with every coo! She is exquisite. The villains are thoroughly camp if slightly inconsequential. Alan Badel as Beshraavi (like Blofeld with his cat) is never without his falcon on his arm and never takes his dark glasses off. Which is meant to be intimidating. It's not - you just keep expecting him to walk into the furniture. He also seems a little too interested in dressing Yasmin in new shoes rather than threatening her with anything more physical! And all the Arab characters are just Brits with painted faces - mostly not even bothering with an accent. Which of course only adds to the camp value. Mix in Henry Mancini's fantastic score and Christopher Challis' distinctively psychedelic and very sparkly camera-work (lights, mirrors and reflections everywhere) and 'Arabesque' feels totally of its time and genre - glamorous, sophisticated, huge fun and completely superficial. What's not to enjoy?
William Sleet
Super Reviewer
Do we ever figure out why the "bad guys" want to know what the hieroglyphics mean? I can't recall, and I don't think I understood this movie when I saw it. Maybe I need to watch it again, but this movie is really confusing, and boring at times. You'd think that Peck and Loren would bring some life to it, and I think they try, but the movie just isn't that good.
½
Fun mystery thriller. Sophia looks incredible as are her clothes. She and Gregory Peck have a good chemistry. Most enjoyable.