Armadillo
(2011)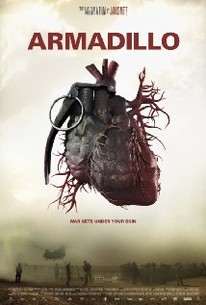 Movie Info
ARMADILLO is an astute exploration of the culture of war. Director Janus Metz follows Danish soldiers fighting the Taliban in the Helmand province of southern Afghanistan with sophisticated visual artistry rarely achieved under such raw conditions. Building his film around the characters within the platoon, Metz allows us to witness how war transforms the different personalities, and the group, approaching his subjects with an intimacy equal to that of fiction. The active military base "Armadillo" houses a mix of 170 Danish and British soldiers in the ISAF (International Security Assistance Force) who are responsible for providing security to the surrounding area and eliminating the Taliban insurgency. Metz follows his subjects through an entire tour of duty, creating an unforgettable portrait of the reality of military life on the front lines. Documenting both the boredom and horror of warfare, Metz shows us the soldiers playing video games and laughing at pornography, struggling to communicate with disillusioned civilians, and killing a group of Taliban soldiers found hiding in a trench. The film avoids judgments for or against the war, and instead shows the soldiers struggling to maintain their humanity in a world filled with violence.-- (c) New Yorker
News & Interviews for Armadillo
Critic Reviews for Armadillo
Audience Reviews for Armadillo
During this fascinating documentary filmed as a fictional war film, I kept wondering how the filmmakers managed to stay alive while doing this in the line of fire. Authentic and magnificently edited, it grows even more compelling and intriguing when some ethical issues arise among the soldiers during the final act.
Carlos Magalhães
Super Reviewer
War documentaries are important in showing a side of reality that we normally don't see. The image of war that has been hollywoodized is stripped away, and the sheer reality of what's going onsets in. What you see before you is real, the soldiers are not actors and the intensity is raw, gritty and in your face. Armadillo is a phenomenal documentary about the Afghan war effort. Following a six month tour of duty by a Danish Regiment, Armadillo plunges the viewers directly in the experience of what goes on behind enemy lines, and shows us what these soldiers go through in order to try and stabilize a country torn apart by war. This is a riveting film, one that is a must see for viewers who are interested in warfare. Because of the subject, it's an important film, one that needs to be seen. The film shows us what these soldiers go through, the cost of what warfare can do to the human state of mind, and how the soldiers try to keep their minds occupied so that they can accomplish their mission and return home safely. This documentary shows us that fighting the war in Afghanistan is not all about fighting the Taliban, but it's also to bring stability and security to a country that was oppressed by the Taliban. Armadillo is terrific in its portrayal of what warfare is like. For those interested in the subject, this is a very good film to watch, and like other documentaries like Gunner Palace and Restrepo, Armadillo is an important film that needs to be seen. If you want to know more about the war effort in Afghanistan then this is a perfect film to watch and learn. Brilliant, disturbing, and at times shocking, Armadillo is like no other documentaries that have come before it, but is sure to join the many films about the subject as essential viewing.
'Armadillo'. An alarming, eye opening look into a Danish platoon in Afghanistan, leaving me extremely conflicted about the motivations of soldiers.
Armadillo Quotes
There are no approved quotes yet for this movie.