Arn - Tempelriddaren (Arn: The Knight Templar)
(2007)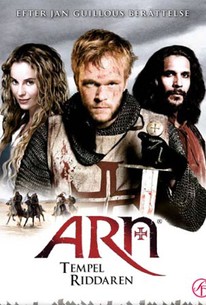 AUDIENCE SCORE
Critic Consensus: No consensus yet.
Arn - Tempelriddaren (Arn: The Knight Templar) Photos
Movie Info
In this lavish historical drama - set in the Middle Ages -Arn, the knightly son of a Swedish nobleman, must journey to the Holy Land on horseback as a sentence for taking up with a forbidden romantic partner. The voyage carries him through the heart of the medieval world and into the core of the brutal and bloody Crusades.
Critic Reviews for Arn - Tempelriddaren (Arn: The Knight Templar)
There are no critic reviews yet for Arn - Tempelriddaren (Arn: The Knight Templar). Keep checking Rotten Tomatoes for updates!
Audience Reviews for Arn - Tempelriddaren (Arn: The Knight Templar)
A disgraced monk who is uncannily skilled in the art of war becomes a Knight Templar defending Jerusalem from the advancing army of Saladin. This Scandinavian co-production is a historical swashbuckler very much in the vein of the likes of Braveheart, combining romance and adventure in a medieval setting. It contains the kind of lavish battle sequences you'd expect, the desert engagement with Saladin a particular highlight but I found the action scenes a little brief especially considering the huge swathes of back story and gooey-eyed romance you have to wade through to get there. Of course, the fact that my plumbing is on the outside rather than in means I'd have preferred less kissing and more stabbing but Arn is nicely shot, well performed and written and technically is very proficient in general. Perhaps lacking the character and inspiration of the best examples of the genre but a solid and worthy effort that's worth a look for fans of chivalrous adventure. FRIHET!!!
½
Disregarding previous films, books, or documentaries, and judging this film based on its merits alone, this movie is excellent and well worth watching. The dialogue, cinematography, and story line carry its own weight. All were well executed, and will bring the viewer through a rollercoaster ride of emotions. The acting is top notch, and the entire package is just wonderful. Really good movie!
Cynthia S.
Super Reviewer
Probably the first film from Sweden I have ever seen and I only checked this out due to the pretty neat film poster/cover, it is a good looker. Its a long film at just over two hours and to be honest its quite dull in allot of places, there is a huge amount of dialog which isn't helped as most of it is in very very small subs haha but it does add a good sense of realism or authenticity to the film. There is action throughout but not too much, the ending has a reasonable battle scene but its the small sword clashes in the first half of the film which work better as the major battles do show this isn't a huge Hollywood blockbuster ie. 'The Kingdom of Heaven'. As said this can't quite compare to the major US historic epics in terms of looks but it does have a more gritty realistic feel over the big boys, the locations in Sweden are damn good looking plus its not often you see a film based in Sweden, the cast is (to me) mainly unknown accept for Vincent Perez of 'Crow: City of Angels' and Stellan Skarsgard, the rest are all very good in their roles and as always the film works better without huge name stars in my opinion. The plot isn't too original (based on a popular book), young boy is raised in a monastery, taught to fight and ends up going off to the Holy land to fight in the Crusades for love and honour, the fact its based on a young boy from Sweden is a twist but apart from that its business as usual. It is a slow burner I must warn people, don't expect a fast blood soaked ride, there are allot of characters and allot of plot building going on especially in the second half of the film within the monastery but its still interesting just about :) If you like your history then I'm sure you will enjoy this.
Phil Hubbs
Super Reviewer
Arn - Tempelriddaren (Arn: The Knight Templar) Quotes
There are no approved quotes yet for this movie.