Art of the Devil 1
(2004)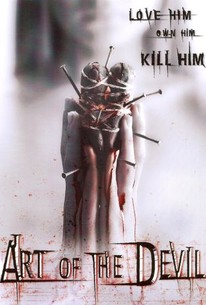 AUDIENCE SCORE
Critic Consensus: No consensus yet.
Art of the Devil 1 Photos
Movie Info
When the father of a sizeable family has an affair with a woman (Arisa Will) who is - unbeknownst to him - a powerful practitioner of the occult, but later rejects her, his entire family is soon wiped out in a disgusting bloodbath that baffles everyone. Thus begins Art of the Devil 1 (aka Khon len khong), a Thai horror film from neophyte director Tanit Jitnukul (Kun pan, Andaman Girl). When an investigative reporter looks into the case and becomes convinced that the aforementioned mistress wields the hand of Satan, he unknowingly opens the door to a violent supernatural battle that literally rips his loved ones apart, as the witch sends eels bursting from human stomachs and rips babes from the womb.
Critic Reviews for Art of the Devil 1
There are no critic reviews yet for Art of the Devil 1. Keep checking Rotten Tomatoes for updates!
Audience Reviews for Art of the Devil 1
½
Dull and failed to scare me even in the littlest way. Art of the Devil failed in making a good antagonist and even too thrill-less to even take it seriously. My eyes was half-open not on scares but because of boredom.
August Seria
Super Reviewer
½
The dubbing was terrible. TERRIBLE. It didn't even fit with the words at all. So did the subtitles. The worst I've ever seen on a film. BUT, It did have a few good bloody moments\kills. I think they should do an american remake...It would be much better.
Jacob Palacio
Super Reviewer
Cultural differences aside, I know every continent has its own voodoo black magic stuff, but.. I dont think non-Thai people would really like this movie AT ALL. Im in shock that this was actually submitted as an International Film, it shouldve just stayed local! Agh gawd how awful was this?! If I could give this movie 1/10th of a star I would..


For the bold video explorers out there, think again before trying this out.. what a waste of film, time and money! Its supposed to be a horror movie... ffs theres more "drama acting" in this than horror... Ive never cursed so much due to irritation just by watching a movie! Crappy acting, crappy script, crappy directing, crappy casting, O hell! Its almost crappy everything! Chaimongkol should just be in an X-rated film... Wills should just stay in local Thai TV soap drama.. The only talented actor in this film was the reporter! And what about that stupid kid ghost? WTF LIKE?!! They place a ("sunkissed child" - rough english translation) to portray a kid ghost?! Gawd.. And something thats even more irritating is their portrayal of the nouveau riche! Oh puhlease! Why did they even go on in producing this? WHAT AN ABSOLUTE PAP!! DO NOT WATCH!! >X(!!
Art of the Devil 1 Quotes
There are no approved quotes yet for this movie.