Ashanti
(1979)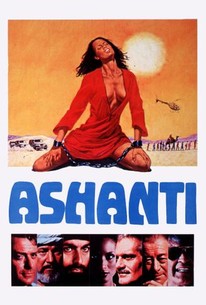 AUDIENCE SCORE
Critic Consensus: No consensus yet.
Movie Info
Released simply as Ashanti, this search-and-rescue film was adapted by scenarist Stephen Geller (Slaughterhouse-Five) from Evano, a novel by Alberto Vasques-Figueroa. Odious middle-eastern slave trader Peter Ustinov sets the plot in motion by kidnapping Beverly Johnson, the wife of World Health Organization doctor Michael Caine. As Johnson is subjected to the basest of humiliations, Caine joins forces with soldier-of-fortune Rex Harrison, pilot William Holden and nomad Kabir Bedi to rescue his wife. Shiek Omar Sharif purchases Johnson, clearing the decks for an all-stops-out action finale. Aldo Tonti lensed the picture.
Critic Reviews for Ashanti
There are no critic reviews yet for Ashanti. Keep checking Rotten Tomatoes for updates!
Audience Reviews for Ashanti
½
Melodramatic and episodic Mills and Boon-esque nonsense populated entirely with racial stereotypes. Horribly dated and overblown 70s tosh.
½
I have to say, I'm right on par with Roger Ebert on this one. I enjoyed Sahara. Sure it was kind of silly sometimes, riddled with plot holes and unrealistic situations. Sure the characters seemed to have been much more knowlegeable about certain subjects (like the schematics of a toxic waste inceneration plant). So what. I've seen worse (See Below). Besides, it was fun, entertaining, and less cliche than many of it's contemporaries. Meanwhile, another movie about the World Health Organization operating in Africa: Ashanti. Have you ever been to one of those going out of business sales, at say... a Sam Goody, where everything is so cheap that you end up buying things you would never have bought otherwise? Enter the dvd of Ashanti. It's my uncle's fault, really. Silly him for thinking that a movie staring Michael Cane, Peter Ustinov, Omar Sharif, Rex Harrison and William Holden would be a winner. It's perhaps one of the most pointless, anticlimactic films I've ever seen. It drags on for so long, and then just kind of fizzles out. On the other hand, I kind of liked it in a weird way. Don't get me wrong, it's a terrible movie, but it could serve a purpose. It's going to the top of my list of movies I watch when I'm sick. You know when you're feverish and tired but bored, and you want to watch something you won't mind dozing through? This is it.
Ryan Young
Ashanti Quotes
There are no approved quotes yet for this movie.
Discussion Forum
Discuss Ashanti on our Movie forum!