Assassin's Creed
(2016)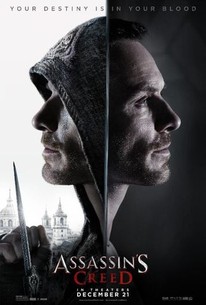 TOMATOMETER
AUDIENCE SCORE
Critic Consensus: Assassin's Creed is arguably better made (and certainly better cast) than most video game adaptations; unfortunately, the CGI-fueled end result still is still a joylessly overplotted slog.
Movie Info
Through a revolutionary technology that unlocks his genetic memories, Callum Lynch (Michael Fassbender) experiences the adventures of his ancestor, Aguilar, in 15th Century Spain. Callum discovers he is descended from a mysterious secret society, the Assassins, and amasses incredible knowledge and skills to take on the oppressive and powerful Templar organization in the present day. ASSASSIN'S CREED stars Academy Award (R) nominee Michael Fassbender (X-Men: Days of Future Past, 12 Years a Slave) and Academy Award winner Marion Cotillard (The Dark Knight Rises, La Vie en Rose). The film is directed by Justin Kurzel (Snowtown, Macbeth); produced by New Regency, Ubisoft Motion Pictures, DMC Films and Kennedy/Marshall; co-financed by RatPac Entertainment and Alpha Pictures; and distributed by 20th Century Fox. ASSASSIN'S CREED opens in theaters worldwide on December 21st, 2016.
News & Interviews for Assassin's Creed
Critic Reviews for Assassin's Creed
Audience Reviews for Assassin's Creed
Finally it's here, An Assassins Creed movie after so many years of rumours that all started not long after the first Assassins Creed game which was back in 06/07, And although this film may have it's flaws it's still a fantastic film, It uses the story from the first game but has different characters and a new look for example the Animus was so much more fun than in the game as it got Michael Fassbender to do more than just lie there like I thought he would, The action was great with some fun stunts and fight scenes, The effects were great most of the time, I can't comment on the 3D as I watched the 2D version, In the hour and 45 minute run time we probably only have 30 minutes of seeing the assassins in action as most of the story like the games was over told and also like the games we never get a satisfying ending as it always finishes with questions and the odd twist, If you're a true fan (Like Me) of Assassins Creed then you should love it, Ignore critics as I bet 75% of them have never played an Assassins Creed game in their life so their reviews don't count.
Jamie Clarke
Super Reviewer
½
It's well known that Hollywood has struggled to make competent movies based upon video game licenses. Most are outright disasters. To date, in my opinion and that of many other losers, the only borderline "good" adaptation was the original Silent Hill. An honorable mention goes to the Prince of Persia: Sands of Time flick that gets points for being a good looking, passable popcorn movie that I'm sure almost no one remembers anything about besides the fact that Gemma Arterton was hot. But with this one, the potential was incredibly strong. The Assassin's Creed franchise may be held with abject contempt by much of the hardcore gaming community, as is its developer Ubisoft (often derisively called "The French EA"), but it's one with name recognition and a devoted fanbase. It also had potential because it is regarded as a "cinematic" video game series, with its unique historical locales, art design, cool looking heroes and villains, and a bunch of Matrix-y cyberpunk bullshit with a dash of Dan Brown that would surely look good on camera. Additionally, A-list talent was being secured in the form of Michael Fassbender and a score of other talented actors, a great director in the form of Justin Kurzel who filmed an excellent rendition of Macbeth, and the best cinematographers and editors money could buy. Ubisoft would also retain a fair degree of input and control of the project, avoiding the likes of previous video game movies that bore no resemblance to the product they were adapting. For the uninitiated, the Assassin's Creed universe concerns a millennia-old struggle between the Assassins (think Jedi) and the Templar (think Sith). They fight over control of humanity's future. The Assassins believe in an egalitarian, laissez-faire society in which free will is paramount. The Templar believe in authoritarian control and a dystopian future that would involve enslaving mankind to preserve order and peace -- strength through unity, unity through strength and all that. They also fight over "First Civilization" (ancient alien) artifacts called "pieces of Eden" to aid them to either control or free humanity. A lot of it is fairly typical alternate history and pseudo-science stuff but it still ends up being fun and engaging. The video games put an emphasis on stealth and urban parkour in addition to swashbuckling blade-to-blade combat. The modern-day Templars use a massive corporation called Abstergo to control half the planet financially. Abstergo has built "Animus machines" which allow them to access the "genetic memory" of unwilling participants so they can discover the locations of pieces of Eden, uncover Assassin secrets, and further document the course of history. So why the hell did I just tell you all that? (And did you notice all the Ass Creed mumbo jumbo terms in quotation marks?) Because this movie does a pretty piss poor job of explaining the backstory thoroughly enough for non-fans to know what the hell is going on. Mind you, Assassin's Creed is not a terrible movie. In fact, by its very nature of being a muddled, popcorn flick with a sloppy narrative but superb cinematography, acting, and effective action, it ends up by default as one of the best, if not the most conventionally competent video game film ever made. I'm also going to go against the critical grain here and say it's one the best-looking movies of the year. The performances are noteworthy. Michael Fassbender is probably one the greatest actors of our generation and he proves it here as a man condemned to die, but finds himself used by the Templars for his Assassin ancestry. He works the scene in the same way he does for the numerous award winning films already under his belt. His devotion to his character and the stunt work involved is beyond admirable - it's extraordinary. Marion Cotillard similarly floored me with her role as an Abstergo scientist who has more peaceful intentions than the average Templar. The interplay between her and Fassbender, along with her corrupt Templar father, (presented with poise by Jeremy Irons) makes the bulk of the narrative. There are other colorful supporting roles such as Michael K. Williams, Ariane Labed, and Brendan Gleeson that I wish we got more of. The action and camera work is beyond exemplary with actual parkour on rooftops and fluid combat, but the thin narrative undermines it. I almost feel as if there is another reel missing. But if my complaint is that we did not get more, than perhaps it isn't such a terrible movie after all. Just a bit of a shallow one. It just stings because the potential for this one was so great. The illusion of the four-quadrant unqualified success for a movie of this nature may never happen. Or at least right now. If the "upcoming" adaptations of Uncharted or The Last of Us fail to produce this coveted hit, then perhaps it's time to fold the genre once and for all (or just not release a risky project in the same month as a goddamn Star Wars movie). Critics despise this movie, but fans such as myself seem to enjoy it, for whatever that's worth. So how does it compare to other video game movies? Well when recent competition is the likes of Resident Evil: 27 and the shitty Hitman sequel do you really have to ask? Go watch millions of dollars burn on screen. There are far worse things to do with your time and money.
Joshua Sheetz
Super Reviewer
The only way I can explain this movie is like this: Imagine having acid in your eyes. Now you think that in order to alleviate the pain you feel is to add some Fassbender to the acid. You do this and the acid just starts burning even more... That is essentially Assassin's Creed. Movie could've been so much better if they just stuck with the whole 1492 storyline the entire time but the needless flopping back and forth with the story and the awful script bogged this movie down to a point where I just wanted it to end so much sooner.
Patrick Wrye
Super Reviewer
Discussion Forum
Discuss Assassin's Creed on our Movie forum!