Asterix and the Vikings
(2006)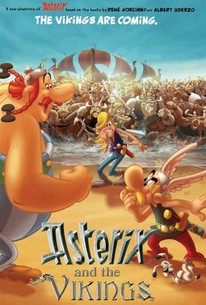 AUDIENCE SCORE
Critic Consensus: No consensus yet.
Asterix and the Vikings Photos
Movie Info
As the eighth animated Asterix feature in thirteen years, the Stefan Fjeldmark and Jesper Møller-directed Asterix and the Vikings opens in Ancient Europe, at the Vikings' mountain fortress. Timandahaf, the chief of the Vikings, hears the age-old maxim "Fear lends one wings," and interprets it literally - believing that the most craven person in the world can actually teach him to fly. As Timandahaf, his counselor Cryptograf, and Cryptograf's son Olaf set forth to locate this person (christened 'The Champion of Fear,') the action shifts to the territory of Gaul. In that locale, diminutive Viking warrior Asterix and the enormous, mustachioed strongman Obelix attempt to teach teenage layabout Justforkix (the nephew of village chief Vitalstatistix) to reinvent himself as a tireless, bellicose warrior. The Gallic men are hindered in their efforts by Justforkix's sheer lack of interest - it seems he'd rather shuffle off to the local discothèque or meet girls than fight Romans. It isn't long before Olaf overhears Justforkix's confession that he is the laziest person in the known world, and decides to kidnap the young man and throw him off a cliff to watch him fly. Justforkix is naturally terrified - but doesn't count on falling for the chief's daughter, Abba. Meanwhile, Asterix and Obelix discover these developments and set off to rescue Justforkix. In the English version of this film (the second Asterix vehicle where the animation is synchronized to the speech of the American actors), Paul Giamatti voices Asterix, Brad Garrett voices Obelix, Evan Rachel Wood voices Abba and Sean Astin voices Justforkix.
Critic Reviews for Asterix and the Vikings
Audience Reviews for Asterix and the Vikings
Great movie. Love the comic book, I really enjoyed this movie. Fun humour, great animation, awesome story. If you're an Asterix fan, this is a must-see. If you're not, then maybe not so much.
Steven Vincent Gee
Super Reviewer
½
So much funny and exciting cartoon film made from France that gives me a great memory from reading the comic book when I was 10 - a long time ago.
Dean McKenna
Super Reviewer
Asterix and the Vikings Quotes
There are no approved quotes yet for this movie.