Asylum Blackout
(2012)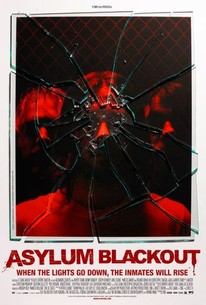 AUDIENCE SCORE
Critic Consensus: No consensus yet.
Movie Info
George, Max and Ricky are in a rock band. Between small gigs and rehearsals, they hope for their big breakthrough. In the meanwhile, someone has to pay the bills! So they work in the kitchen of a high security asylum. Good pay, minimum risk - they have no physical contact with the inmates. One night, just before dinner time, a big storm shuts down the security system, the doors open and the lunatics break loose. Help is on its way and should soon arrive. They just have to wait for it...and survive until then. -- (C) IFC
Critic Reviews for Asylum Blackout
All Critics (3) | Fresh (2) | Rotten (1)
Precisely what the title implies, but it does get pretty rough.
A skillfully cobbled together little calling card of a film. If in the end it's a bit short on convincing payoff, its atmospheric spell should generally satisfy genre fans, and also augur good things for most involved.
Audience Reviews for Asylum Blackout
½
Pretty good low budget horror film, Asylum Blackout is an inventive film, one that takes an interesting approach to a familiar formula. The film is not perfect, but it does rely on some impressive performances, and good moments of thrills. If you're looking for a surprising horror film, then Asylum Blackout may provide what you're looking for. The idea is simple, yet effective enough to keep you entertained from start to finish. The cast do a good job in their performances, and what I enjoyed about the story was that it featured a bunch people trapped with lunatics in an asylum and they try to survive the night. Easy, simplistic and to the point, this film doesn't try to overdo anything. Some of the best horror films use simplistic ideas to tell an awesome, memorable story. T hew film could have been better, but for what it is, it's a pretty good effort that delivers an entertaining hour and a half of jolts. Fans looking for creative horror films will enjoy this film, and as a fan of these types of horror films, Asylum Blackout is a treat. I really love horror films set in asylums, haunted old buildings and abandoned hospitals that have a dark past. However with this one, it takes the setting of an asylum and adds a survival situation to make it a good horror film. Sure there are aspects that could have been improved upon, but this is still worth seeing if you love these types of horror films. As far as low budget horror films are concerned, Asylum Blackout is far better than the most mainstream horror films. If you're tired of remakes and dull, unimpressive genre films, then this will most likely satisfy you.
Asylum Blackout Quotes
There are no approved quotes yet for this movie.