Asylum of Blood
(1971)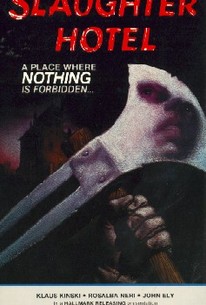 AUDIENCE SCORE
Critic Consensus: No consensus yet.
Movie Info
Fernando DiLeo, best known for a series of westerns and crime films, tried his hand at horror with this extremely sick little item loaded with nudity and violence. Set at a remote mental institution (inexplicably located in a castle), the film features Klaus Kinski as a doctor whose mostly female patients are being brutally dispatched by a psychopath. Margaret Lee and Rosalba Neri are among the frequently unclothed cast, and there are decapitations, crossbow bolts in the eye, and -- in some foreign prints -- fairly explicit sex. Nothing in the film, however, is as tasteless as its original ad campaign, which played up its similarity to the crimes of Chicago mass-murderer Richard Speck (who actually killed student nurses and not patients).
Critic Reviews for Asylum of Blood
There are no critic reviews yet for Asylum of Blood. Keep checking Rotten Tomatoes for updates!
Audience Reviews for Asylum of Blood
½
Do you like the labia minora? Because two close-ups in this movie demand you show these labia the respect they deserve ... It's Euro-sleaze more than thriller, a lazy exploitation piece sewn together with tactile editing. BTW, the title is a lie. The bestia does not uccide a sange freddo; in fact, he seems to uccide with aching testicles... An accurate subtitle might be "Profitable Variations on a Theme of Sex and Murder." The movie doesn't care enough to clarify any questions about death and desire or let slip any answers, but it does take the theme in a creepy direction: the victim-patients and the killer-panter sometimes need something from each other and fumble at an exchange. As lazy as it all is, there are respectful nods to the grand gothic horrors of masters like Bava. Di Leo plays at obtaining a gothic atmosphere on a small-scale, with lots of unflashy camera movement, all ground-level, across spaces cluttered with colors. Points for Rosalba Neri and her perfectly matched English voiceover, who together play the one patient who knows exactly what she needs, why it's right and how to be uncompromising about it. Is she all eros or is thanatos in there somewhere? Points of originality: a pseudo-humanitarian nurse on the prowl for hot lesbian action; the two most unconstructively critical cops in movie history -- when they retire, they deserve an Italian public access show; characters dreaming about exactly what we saw of them earlier in the day -- which is ridiculous but the rhythm of the editing is hypnotic; and there's an unhinged, Wagnerian finale, when the killer decides on a whim that he needs an orgy of blood -- the director thought the audience needed one too.
Adam Mahler
Super Reviewer
Much more tittilating than horrific, the version I saw on a VHS compilation with the film title "Asylum Erotica" wasn't a real horror film per se, but I hear there is a version out there that's basically a porno, which judging from the cut version I saw, I can certainly understand that.
Tim Salmons
Super Reviewer
Asylum of Blood Quotes
There are no approved quotes yet for this movie.