Audrey Rose
(1977)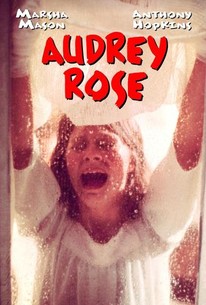 Movie Info
Audrey Rose is a "thinking man's" horror film, which in a way is unfortunate, since it tended to be ignored amidst the many spell-it-all-out scarefests of the late '70s. Marsha Mason and John Beck play Janice and Bill Templeton, a happily married couple, the parents of well-adjusted preteen Ivy (Susan Swift). Their family security is disrupted by the arrival of a mysterious stranger, Elliot Hoover (Anthony Hopkins). At first mistaken for a potential child molester, Hoover explains that his obsessive interest in young Ivy is actually paternal. It is Hoover's contention that their daughter is the reincarnation of his own child, who died in a horrible accident. This information is dismissed out of hand-and then strange things begin happening. Directed by Robert Wise (who had previously helmed the psychological thriller The Haunting), Audrey Rose was adapted by co-producer Frank de Felitta from his own novel.
News & Interviews for Audrey Rose
Critic Reviews for Audrey Rose
Audience Reviews for Audrey Rose
½
Slightly more realistic version of Exorcist sans the scares. It's very understandable that this was ignored by horror fans.
If you took The Exorcist's aesthetic, but inserted terrible performances, and swapped out thorough religious themes for half baked ideas about reincarnation.... you could probably still make a better movie than Audrey Rose. Robert Wise was no stranger to vacuous, overly sentimental storytelling (see: The Sound of Music) but he really outdid himself here. That's not to say he didn't have talent (after all, he made The Day The Earth Stood Still, which, for my money is one of the best sci-fi films ever made) but his direction in this film is choppy and even downright questionable in some scenes. Not even a younger, spry Anthony Hopkins can save this cheap imitation from itself.
Jonathan Hutchings
Super Reviewer
½
Interesting semi-horror film which see's a grieving father stalking an 11 year-old girl who he believes to be the reincarnation of his dead daughter. Has a few similarities with 'The Exorcist' but with a Hinduism theme rather than christian. Well acted and quite thought-provoking. Worth a watch.
Audrey Rose Quotes
There are no approved quotes yet for this movie.