Autumn Spring (Babí léto)
(2003)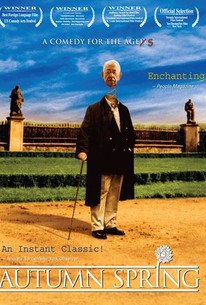 Autumn Spring (Babí léto) Photos
Movie Info
Fanda (Vlastimil Brodský of Larks on a String), an elderly former actor, can't resist playing practical jokes on everyone around him. As Autumn Spring opens, Fanda and his best friend and co-conspirator, Eda (Stanislav Zindulka), have convinced a real estate agent that Fanda is a retired star from the Metropolitan Opera in New York. As they tour an opulent mansion, Fanda pronounces it "very shabby." Fanda doesn't mean any harm with his pranks. He's just trying to amuse himself. But his wife, Emílie (Stella Zázvorková) doesn't understand his childish behavior, and resents the way he squanders money and wastes his time while she scrimps and saves and makes preparations for their eventual burial. Their selfish son, Jára (Ondrej Vetchý), wants them to move out of their apartment so that his ex-wife and her kids can move in. When one victim of Fanda's pranks realizes he's been had and demands payment for his time and expenditures, Fanda calmly agrees. Unable to come up with the money, he dips into Emílie's funeral fund. When she finds out about it, she decides to take drastic action, which has a profound effect on Fanda's carefree existence. Autumn Spring was directed by Vladimír Michálek from a script by Jirí Hubac. It marks the final performance of renowned Czech actor Brodský, who committed suicide shortly after the film was made. Autumn Spring won several Czech Lion awards in 2001, and has been shown at festivals throughout the world, including the 2003 installment of New Directors/New Films.
Critic Reviews for Autumn Spring (Babí léto)
Audience Reviews for Autumn Spring (Babí léto)
This movie is really sad when you find out, and I found out months prior to watching the movie because I do research, that Vladimil Brodsky committed suicide shortly after filming this movie. It makes watching really bittersweet, when you see how this character plays out on screen as someone who just wants to enjoy life by playing pranks on people to feel alive and young again. It's really a great and charming performance, quite frankly the three leads are all great. The story is also really good, seeing how this man's behavior ultimately hurts the person he loves the most. It's very believable to think that this man, who's close to the end of his life, to want to feel young and alive again by doing what he does. It's also believable to see his wife react the way she does. It's just great. And it deals with the death issue in a mature manner, it doesn't feel melodramatic. Overall it's just a really great movie with very funny and touching moments.
Jesse Ortega
Super Reviewer
Autumn Spring (Babí léto) Quotes
There are no approved quotes yet for this movie.