Avril
(2006)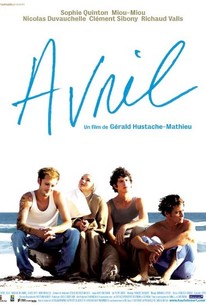 AUDIENCE SCORE
Critic Consensus: No consensus yet.
Movie Info
A would-be nun pays a visit to an outside world that's full of surprises in this comedy-drama from France. Avril (Sophie Quinton) never knew her parents; rather than keep her, her folks left her on the doorstep of a convent, where she was raised by the nuns, led by Sister Bernadette (Miou-Miou). Avril has long intended to join the only family she's ever known at the convent, but Sister Bernadette gently but firmly suggests she should take the opportunity to see the larger world before she turns her life over to the Lord. The suggestion has been nagging at Avril for some time, and when she and her fellow novices are supposed to spend a weekend in silent meditation at the chapel, she takes the opportunity to sneak away for a few days. Avril's attempts to learn something about her parents has led her to discover she has a twin brother, and she decides it's time she met him. Avril hitches a ride to visit her brother David (Clement Sibony), catching a lift with Pierre (Nicolas Duvauchelle) and arriving in time to discover he's about to leave for a weekend getaway. David invites Avril along, but to her surprise, he also brings along Jim (Richaud Valls), his significant other; Pierre ends up tagging along, and as Avril gets to know her brother and his boyfriend, she also notices that Pierre seems to have taken a keen interest in her. Avril was the first feature film from writer and director Gerald Hustache-Mathieu. ~ Mark Deming, Rovi
Critic Reviews for Avril
There are no critic reviews yet for Avril. Keep checking Rotten Tomatoes for updates!
Audience Reviews for Avril
½
A cute little french film, let's admit it! It was quick, smooth and adorable and it almost felt like biting into a piece of sweet coconut pie. Since there is no synopsis, then I think it is my duty to provide one, haha! So okay: this is NOT a movie about Avril Lavigne! I've seen tons of comments of close-minded people raving about that commercial singer so get that out of your minds because this movie definitely needs to be recognized as something different. So okay, back to the point. This is basically the story of a young nun, Avril (April for the english version I believe) and how she learns to live her life and get something worthwhile out of it once she learns she has a twin brother out there in the big world, outside of the convent. Of course, she falls in love, but it's not sappy and the focus of the film is not on the romance but on the psychological evolution of Avril's character. Scenes comprised of dialogue form the bulk of this movie, although it's so nicely put that you can't help being a sponge and absorb it all. Also, every scene without dialogue is almost sacred; it's calm and poised and incredibly poetic (the body painting scene, you should watch out for that). I strongly recommend this to anyone who's enjoyed "L'Auberge Espagnole" or "Potluck" and "Avenue Montaigne". Well basically anyone who has a soft spot for french films and hearing those french actors' sweet little accents.
Avril Quotes
There are no approved quotes yet for this movie.