Awaydays
(2009)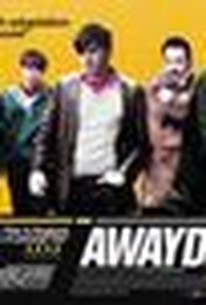 Movie Info
A young man makes some new and dangerous friends in this kitchen-sink drama set in Northern England in 1979. 19-year-old Carty (Nicky Bell) lives with his father (Ged McKenna) and younger sister Molly (Holliday Grainger) and has a good job working for his uncle Bob (Ian Puleston-Davies). Despite his loving family and promising future, Carty is fascinated with "the Pack," a gang of football supporters led by John (Stephen Graham) who are known in the neighborhood for their drinking and reckless violence. Carty strikes up a casual friendship with Mark (Liam Boyle), a member of the Pack nicknamed "Elvis," and while Mark isn't convinced Carty is cut out to run with them at first, Carty's tenacity in a fight changes his mind. While Carty and his new mates use their muscle to knock some sense into a short-term boyfriend who mistreats Molly, she doesn't trust the Pack and tries to persuade her brother that hanging out with them will lead to a bad end. Carty isn't easily persuaded, but his relationship with the Pack becomes complicated when his friendship with Mark takes an unexpected turn. Awaydays was adapted from a novel by Kevin Sampson, who also wrote the film's screenplay. ~ Mark Deming, Rovi
People Who Like this movie also like
Critic Reviews for Awaydays
Audience Reviews for Awaydays
Hugely dissapointed with this...what the hell it thought it was supposed to be I dont know. There is no comparrison between books and the film adaptation but this one was even worse....I have absolutely no problems with people being gay but this film wasnt s0 sure. I know it was set in 1979 but is it a love story? Is it film about football violence or people being bored with their ordinary lives?.....God knows cause this film didnt...I sat there totally bemused and im sure most of you will be too.....so much potential so little outcome.....and the fight scenes were crap!
Barry Lappin
Super Reviewer
½
A really badly made film in many respects and the zero budget is glaringly obvious right from the start. Of course a low budget doesn't make a bad film and can often go in the film's favour, helping to give a film a raw, gritty and more credible feel for example. But good direction doesn't cost anything and here they don't seem to have bothered at all. It often feels like the actors were left to get on with it by themselves - unwise with a cast of (mostly) unknowns. The story is all over the place and characterisation is hamfisted and mealymouthed. So why did I like it so much??... Maybe cus it's British and cheaply made and, funnily enough, it's not some dumb horror? Maybe cus there are no big stars, or celeb endorsements, or product placement, media hype, explosions or smug knowing in-jokes. Maybe it's cus The News Of The World slagged it off? Or maybe I'm just a sucker for a story about a homo, tortured by self-loathing and unrequited love, set to a fantastic soundtrack? (it is FUCKING fantastic!). Maybe cus it's a failure but at least they tried? Actually it's all of the above. It's certainly nowhere near in the same league as 'Control' or the best of Shane Meadows (to which some lazy critics have compared it to) but despite (and sometimes because of) it's many flaws it's not a bad little film and I really enjoyed it.
William Sleet
Super Reviewer
Awaydays Quotes
There are no approved quotes yet for this movie.