Bad Channels
(1992)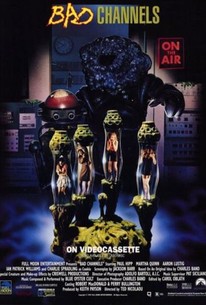 AUDIENCE SCORE
Critic Consensus: No consensus yet.
Movie Info
In this film, "Dangerous" Dan O'Dare is an entertaining radio host who gets locked up in the station's control room when an alien being takes over the broadcast. The being starts mesmerizing attractive female listeners with jivy tunes and then transports them to the station.
Critic Reviews for Bad Channels
All Critics (3) | Fresh (1) | Rotten (2)
There isn't much about the film that makes sense, as it's strictly a film with the intent on shining a spotlight on early nineties surrealism and pop.
...pushes so many buttons that I wouldn't blame anyone who would like to push them back.
Audience Reviews for Bad Channels
Probably one of Band's cheapest looking and oddest flicks, if that's possible, and certainly in the trashy B-movie realm. No real sense behind the plot other than aliens trying to capture human females for some pointless reason. This all takes place in a radio station with a lot of cheap looking effects and hammy rubber alien suits. Its not too predictable as its basically completely off the wall with at least two music/band sequences in the film. This of course is bizarre for a movie and makes the whole thing seem like some low budget music video off MTV. Its an utterly screwball flick but it does have a certain charm to it at times, plus its the prequel to 'Dollman Vs Demonic Toys' so I've read. There is a very short sequence after the end credits with Tim Thomerson as 'Dollman' that does give the hardcore Band fanboys something to smile about...if you liked 'Dollman' that is.
Phil Hubbs
Super Reviewer
Possibly one of the worst film I've ever seen, the acting was so bad and I know they didn't do it on purpose. And story? Don't even mention it, it was not funny at all, you really can't call this junk a spoof. Even the idea itself is so stupid: Random aliens collecting women with radiowaves that shrinks and teleports them. The whole film is so cheap looking, I could barely watch it (I almost died during the first 10 minutes) R2D2!!?? Spare me please.
Sylvester Kuo
Super Reviewer
When a alien crash lands in a small town it decides the one place that would be perfect to take over would be the neighborhood radio station of coarse the DJ on for the night is one known for his stunts and no one at first believes him as the alien starts to collect women and shrinking them down to size to keep them captive in small jars. I believe the plot says it all here this movie is pure cheese some are gonna like it some are gonna hate it so watch at your own risk i just thought it was ok not really sure id see it again
Bad Channels Quotes
There are no approved quotes yet for this movie.