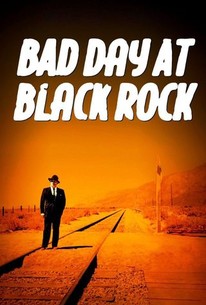 Bad Day at Black Rock
1955, Crime/Drama, 1h 21m
34 Reviews
5,000+ Ratings
Where to watch
Rent/buy
Rent/buy
Rent/buy
Rate And Review
Bad Day at Black Rock Photos
Movie Info
When John J. Macreedy (Spencer Tracy), a one-armed war veteran, arrives in the small desert town of Black Rock, he's not greeted warmly. Searching for a man named Komoko, Macreedy is met with disdain by virtually every local, including the resident thug, Hector David (Lee Marvin), and the imposing Reno Smith (Robert Ryan). As Macreedy's investigation deepens, hostility turns to violence -- and to imminent danger for the mysterious and inquisitive stranger.
Genre: Crime, Drama

Original Language: English

Director: John Sturges

Producer: Dore Schary

Writer: Howard Breslin, Don McGuire, Millard Kaufman

Release Date (Theaters): wide

Release Date (Streaming):

Runtime:

Distributor: MGM/UA Home Entertainment Inc., Criterion Collection, Metro-Goldwyn-Mayer

Production Co: Metro Goldwyn Mayer

Sound Mix: Mono, Magnetic Stereo 6 Track

Aspect Ratio: 70mm
Audience Reviews for Bad Day at Black Rock
Racial bigotry is at the heart of this small town drama as a stranger comes to town looking for someone who isn't there. Tracy is his usual Rock-of-Gibraltar lead as the returning vet looking for the father of a fellow serviceman, but the supporting cast make this a full meal of anxious tension. There's a fight scene, too, that'll surprise you.

In 1955, as the repugnance of McCarthyism raged in America, this film emerged, trying to come to terms with racism and the treatment of Japanese-Americans during the war. What an extraordinary thing that is, acknowledging a shameful injustice at a time when some considered it subversive to do so. Spencer Tracy is in the lead role of a lone, one-arm stranger who gets off a train in a dusty town in the middle of nowhere at the film's beginning. He's met with rude behavior from the townsfolk from the start, and director John Sturges is brilliant in gradually ramping this up to outright hostility. The town has a secret surrounding a Japanese-American we never see, because he disappeared shortly after Pearl Harbor. Tracy's character feels a debt to this man because his son died trying to save his life in Italy. He's just one quiet man against a group of racist thugs, whose ringleader is played well by Reno Smith, and his own safety becomes seriously threatened. It has the feel of classic westerns, but with a very different reason for the conflict. One of the wonderful aspects about the film is that there is only one exchange that reveals the ugliness of this guy's beliefs, that there was no difference between Japanese-Americans and those who bombed Pearl Harbor or who tortured Americans on the Bataan Death March. There are no others; the beliefs simply lie buried and dormant, under what to the dominant culture will appear a rural but 'normal' town. There are those who know what happened is wrong, but are complicit in their silence. In all of this, it's easy to see the parallels to racism today. The strongest performance in the film comes from Lee Marvin, who is seriously creepy and intimidating as one of the heavies. Ernest Borgnine is also very good as another, and the scene he has with Tracy in the diner, pushing him to the very limit, is one of the film's best. Spencer Tracy is strong, but I have to say, at 55, he was probably a little bit too old for the role, Oscar nomination notwithstanding. The film is well paced at just 81 minutes, which is just right for the story. It's unfortunate that the musical score wasn't as restrained. Andre Previn's score is over-the-top and far too expressive in several of the film's scenes. It's also a little odd that the town, as small as it is, appears to have one and only one woman (Anne Francis). With that said, how fantastic the film's message is, that standing up for what's right sometimes means standing up for a powerless minority, and there is a need to speak up instead of remaining silent. It channels the best of what America should be, made in 1955 at a time when those values were threatened, and viewed 63 years later, when this humble reviewer can't help but feel they are threatened again.

John Sturges's 1955 film "Bad Day at Black Rock" sets Spencer Tracy against a barren desert landscape in this beautifully filmed widescreen Technicolor thriller. The film is based off a 1947 short story by Howard Breslin called "Bad Day at Honda." The film shows how the war created anti-Japanese sentiment among many Japanese-Americans. Made only ten years after the end of the war, one could say it attempts to condemn that era in American history. Tracy and a marvelous supporting cast including Robert Ryan, Ernest Borgnine, Lee Marvin and Anne Francis co-star. In a small desert community named Black Rock in 1945, the train stops for the first time in four years surprising all who live there as people come out of their shops and homes to see who is getting off. The man who gets off the train is John J. Macreedy (Spencer Tracy), a mysterious man with one arm who is looking for Adobe Flats. The townspeople are incredibly suspicious of Macreedy, his arrival in the town polarizes them. The only person in the town who thinks Macreedy isn't up to no good is a man named Doc, played by the always wonderful character actor Walter Brennan. Macreedy visits the local sheriff Tim Horn (Dean Jagger) and reveals he's looking for a man named Komako. As soon as Horn hears the name Komako, he immediately fumbles his alcohol. The town seems lawless and Horn only seems to hold the position of sheriff, but Reno Smith (Robert Ryan) runs the town. Smith informs Macreedy that Komako came in 1941 but three months after Pearl Harbor he was taken away to a relocation center. Smith reveals extreme anti-Japanese sentiment calling them "rats" and saying that although there's a law against shooting dogs he wouldn't let a mad dog bite him before he shoots it. Macreedy starts to get suspicious of the townspeople, he believes that something may have happened to Komako after visiting Adobe Flats and sees that it's been burned to the ground. He also notices that the ground is covered in wildflowers leading him to believe there is a grave there. There is a contrast between the armless Macreedy and Smith. Macreedy lost his arm fighting in Italy and Smith was unable to join the Marines after failing a physical. This is an excellent tense, taunt, short film of only 81 minutes. It's straight forward.

A pretty good suspense movie with Tracy, it has it's good moments, but it also has boring moments.
See Details