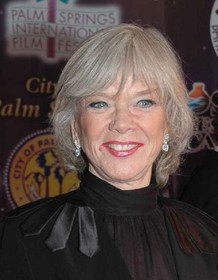 Anne Francis
Highest Rated: 97% Bad Day at Black Rock (1955)
Lowest Rated: 43% Susan Slept Here (1954)
Birthday: Sep 16, 1930
Birthplace: Ossining, New York, USA
Smoldering sex symbol Anne Francis is most remembered for her role in the sci-fi movie "Forbidden Planet" and her title part in the detective show "Honey West." Born in 1930 in Ossining, New York, Francis began work as a model as a young girl and made her Broadway debut at just 11 years old. She starting appearing as beautiful blondes in motion pictures in the late '40s, an archetype that continued into the mid-'50s when she starred opposite Spencer Tracy in the thriller "Bad Day at Black Rock" as the only kind soul in an inhospitable town. Francis took the lead in the '55 juvenile delinquent classic "Blackboard Jungle" before journeying to the future with Leslie Nielsen's hero in "Forbidden Planet," playing one of the alien world's few surviving inhabitants. In the '60s, Francis began to act extensively on the small screen, and took the starring role in "Honey West"; she played a comely private eye who solves her cases with the help of hi-tech gadgets, sex appeal, and her pet ocelot, Bruce. Although she rarely appeared in feature films during subsequent decades, Francis maintained an active career on television well into her 70s; she died in 2011 at age 80.
Photos
FORBIDDEN PLANET, Anne Francis, 1956
DREAMBOAT, Clifton Webb, Anne Francis, 1952, (c) 20th Century Fox, TM & Copyright
ELOPEMENT, Anne Francis, William Lundigan, 1951, TM and copyright ©20th Century Fox Film Corp. All rights reserved
THE SCARLET COAT, Cornel Wilde, Anne Francis, 1955
THE GREAT AMERICAN PASTIME, Tom Ewell, Anne Francis, 1956
THE SCARLET COAT, Anne Francis, Michael Wilding, 1955
THE SATAN BUG, George Maharis, Anne Francis, 1965.
THE SATAN BUG, Anne Francis, George Maharis, 1965.
LYDIA BAILEY, Anne Francis, Dale Robertson, 1952, TM and Copyright (c) 20th Century Fox Film Corp. All rights reserved.
THE RACK, Anne Francis, Paul Newman, 1956
THE RACK, Walter Pidgeon, Anne Francis, Paul Newman, 1956
THE RACK, from left, Paul Newman, Anne Francis, 1956
IMPASSE, Anne Francis, Burt Reynolds, 1969
GIRL OF THE NIGHT, Anne Francis, John Kerr, 1960
SUMMER HOLIDAY, Hal Hackett, Michael Kirby, Anne Francis, 1948
FORBIDDEN PLANET, Anne Francis, Robby the Robot, 1956
SUSAN SLEPT HERE, from left, Anne Francis, Dick Powell, 1954
FORBIDDEN PLANET, Anne Francis, Robby the robot, 1956
THE WHISTLE AT EATON FALLS, Anne Francis, Carleton Carpenter, 1951
A LION IS IN THE STREETS, Anne Francis, 1953
Filmography
Movies
TV
Credit

No Score Yet

No Score Yet

Without a Trace
Unknown (Guest Star)

2004

No Score Yet

No Score Yet

Fantasy Island
Unknown (Guest Star)

1999

No Score Yet

No Score Yet

The Drew Carey Show
Unknown (Guest Star)

1998

No Score Yet

69%

Home Improvement
Unknown (Guest Star)

1997

No Score Yet

No Score Yet

Wings
Unknown (Guest Star)

1996

43%

No Score Yet

Burke's Law
Honey Best (Guest Star)

1994

No Score Yet

88%

Murder, She Wrote
Lee Haley (Guest Star)

1990

No Score Yet

93%

The Golden Girls
Trudy McMann (Guest Star)

1989

No Score Yet

No Score Yet

Matlock
Unknown (Guest Star)

1989

No Score Yet

No Score Yet

Jake and the Fatman
Unknown (Guest Star)

1987

No Score Yet

No Score Yet

Finder of Lost Loves
Unknown (Guest Star)

1985

No Score Yet

No Score Yet

Partners in Crime
Sarah - Health Instructor (Guest Star)

1984

No Score Yet

No Score Yet

Riptide
Mama Jo (Character)

1984

No Score Yet

No Score Yet

Trapper John, M.D.
Unknown (Guest Star)

1980

1983

No Score Yet

No Score Yet

Simon & Simon
Angel Barkley (Guest Star)

1983

No Score Yet

No Score Yet

CHiPs
Unknown (Guest Star)

1982

No Score Yet

No Score Yet

Fantasy Island
Unknown (Guest Star)

1978

1980-1981

No Score Yet

No Score Yet

Dallas
Unknown (Guest Star)

1981

No Score Yet

No Score Yet

Charlie's Angels
Unknown (Guest Star)

1978

1980

No Score Yet

No Score Yet

The Littlest Hobo
Unknown (Guest Star)

1980

No Score Yet

No Score Yet

Police Woman
Liz Adams (Guest Star)

1976

1978

100%

80%

Wonder Woman
Unknown (Guest Star)

1976

No Score Yet

No Score Yet

Barnaby Jones
Unknown (Guest Star)

1973

1975

No Score Yet

100%

Kung Fu
Unknown (Guest Star)

1974

No Score Yet

No Score Yet

Banacek
Katherine Wells (Guest Star)

1974

No Score Yet

No Score Yet

Cannon
Peggy Angel (Guest Star)

1973

No Score Yet

79%

Columbo
Nurse Sharon Martin (Guest Star)

1972-1973

No Score Yet

No Score Yet

Gunsmoke
Sarah (Guest Star)

1972

No Score Yet

No Score Yet

My Three Sons
Unknown (Guest Star)

1971

No Score Yet

No Score Yet

Dan August
Nina Porter (Guest Star)

1970

No Score Yet

No Score Yet

Name of the Game
Unknown (Guest Star)

1968

1970

No Score Yet

No Score Yet

The Fugitive
Felice Greer (Guest Star)

1967

No Score Yet

No Score Yet

Honey West
Honey West (Character)

1965-1966

No Score Yet

No Score Yet

Alfred Hitchcock Hour
Unknown (Character)

1963

1965

No Score Yet

No Score Yet

The Virginian
Victoria Greenly (Guest Star)

1964

100%

No Score Yet

The Man From U.N.C.L.E.
Unknown (Guest Star)

1964

No Score Yet

No Score Yet

Ben Casey
Gloria Fowler (Guest Star)

1963-1964

92%

95%

The Twilight Zone
Marsha White (Character)

1960

1963

No Score Yet

85%

Alfred Hitchcock Presents
Nyla Foster (Character)

1960-1961

No Score Yet

No Score Yet

Dr. Kildare
Unknown (Guest Star)

1961

No Score Yet

No Score Yet

Route 66
Unknown (Guest Star)

1961

No Score Yet

No Score Yet

The Untouchables
Unknown (Guest Star)

1960

No Score Yet

No Score Yet

Startime
Unknown (Character)

1960

No Score Yet

No Score Yet

Rawhide
Unknown (Guest Star)

1959

No Score Yet

No Score Yet

Climax!
Unknown (Character)

1958

No Score Yet

No Score Yet

Lights Out
Unknown (Character)

1950

No Score Yet

No Score Yet

Suspense
Unknown (Character)

1949

No Score Yet

No Score Yet

Studio One
Unknown (Character)

1949