Bad Times at the El Royale
(2018)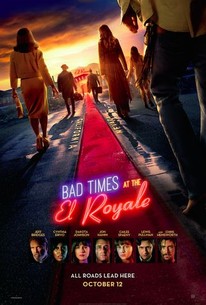 TOMATOMETER
AUDIENCE SCORE
Critic Consensus: Smart, stylish, and packed with solid performances, Bad Times at the El Royale delivers pure popcorn fun with the salty tang of social subtext.
Bad Times at the El Royale Videos
Bad Times at the El Royale Photos
Movie Info
Seven strangers, each with a secret to bury, meet at Lake Tahoe's El Royale, a rundown hotel with a dark past. Over the course of one fateful night, everyone will have a last shot at redemption... before everything goes to hell. Jeff Bridges, Chris Hemsworth, Jon Hamm, Dakota Johnson and Cynthia Erivo lead an all-star cast in BAD TIMES AT THE EL ROYALE.
News & Interviews for Bad Times at the El Royale
Critic Reviews for Bad Times at the El Royale
Audience Reviews for Bad Times at the El Royale
It's said that once in every director's career, they attempt to remake Goodfellas. I'd argue it's that or Pulp Fiction. Yes, independent directors of the late 90's and early 00's were often quite guilty of trying to emulate Pulp Fiction and Reservoir Dogs, giving rise to the term "Tarantino-esque". But that influence survived the era and one can see that in Bad Times at the El Royale. One would assume from the trailer and the first fifteen minutes that you are settling in for a quirky Coen Bros-style film with plenty of colorful characters and awkward violence. Not the case, as we get slow-burn conversations punctuated with sudden violence and plenty of the subtle references to cinema that Tarantino is fond of. I won't give away the plot, but it revolves around a dilapidated hotel and several criminals who converge on it, for various reasons. Drew Goddard who previously directed Cabin in the Woods and wrote Ridley Scott's The Martian, really expresses great flair here, without overindulgence. Yes, El Royale is perhaps 30 minutes too long, but it earns its extraordinary runtime. The performances are exceptional. Jeff Bridges and Cynthia Erivo have great chemistry, Dakota Johnson plays Chaotic Neutral better than one would expect, Jon Hamm was born to play men from this era, and Cailee Spaeny and Lewis Pullman will surprise you. And Chris Hemsworth essentially dominates as a Charles Manson style cultist. It's not perfect, but it nearly is. The soundtrack is phenomenal, and the aesthetic is that late 50's style Western kitsch found in Fallout: New Vegas or even parts of Fear and Loathing. I don't think it will earn many awards, but it's worth your attention. Break it up into two sessions and enjoy your stay.
Joshua Sheetz
Super Reviewer
Much like Tarantino's The Hateful Eight, this is a clever allegory of America centered on a group of peculiar characters who represent each a facet of American society (not only of the 1960s but also today), wrapped up in a stylish and sexy film-noir package with great performances.
Carlos Magalhães
Super Reviewer
If Quentin Tarantino became a born again Christian, I imagine his upcoming Once Upon a Time in Hollywood film would go a little something like this. Set in a motel on the California-Nevada border, this close-quarters neo-noir boasts plenty of style, but director Drew Goddard's decision to stretch the runtime out adds surprisingly little characterization to the impressive cast and their admittedly dynamic performances. One would assume that the split-state setting of the motel would be used more to highlight the duplicitous nature of each character in their group of strangers brought together by chance, but this theme is surprisingly underutilized. Instead the motel appears to be a stand in for purgatory, and maybe for some, hell. What we are treated to is a series of unveiling's regarding each character's backstory divided into chapters according to their room. None of these stories intertwine up to that point or foreshadow their redemptive arcs in this place, but they nonetheless give you some context as to their motivations. However, their motivations and actions just happen regardless of who they are, and I found there was at least one major action that each character did that seemed out of place or only there to convenience the plot. The movie seems so fully content with explaining how something occurred that at times it complete disregards why. Noir has always relied on the twists and turns that keep audience members guessing up til the end, and that's inarguably one of the most fun aspects of the genre. But where the best mysteries will start at "A" and naturally arrive at "Z" without much issue, Bad Times at the El Royale relies on a perfect syzygy of events and actions to reach its conclusion. I'm not saying these twists need to be realistic, but they at least need to be rational. As Star Wars: The Last Jedi has proven, surprising an audience simply by defying expectations is a lazy and frustrating method of storytelling and no less so with this film. The fact that it climaxes with a literal "come to Jesus" moment only makes the film seem even more confused. It wants to be classic noir mystery mixed with quirky Coen brother's violent comedy, then it is trying to be a rumination on the late 60s zeitgeist with added ultraviolence. But the fact that it seems to take seriously the ersatz salvation of character who has killed 120+ people by absolution from a fake priest? Gimme a break. The Christian overtones are only bolstered by Chris Hemsworth's GQ Charlie Manson character, an antagonistic gnostic who espouses self-determinism, moral relativism, free thinking, oh, and random murder. The earnest attempt at an emotional conclusion mixed with the gleefully gun-heavy gore makes for some odd tonal and ideological dissonance, but much like The Boondock Saints, the more you think about it, the less you'll enjoy it. As for anyone calling this a deconstruction of the noir genre, they must be confusing that term for "randomly rehashed tropes".
K Nife Churchkey
Super Reviewer
Bad Times at the El Royale Quotes
There are no approved quotes yet for this movie.