Bad Words
(2014)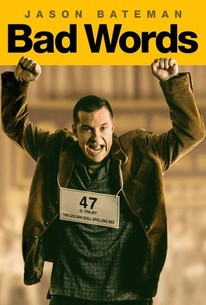 TOMATOMETER
AUDIENCE SCORE
Critic Consensus: Scabrously funny and gleefully amoral, Bad Words boasts one of Jason Bateman's best performances -- and proves he's a talented director in the bargain.
Movie Info
Jason Bateman makes his feature directorial debut with the subversive comedy Bad Words. Mr. Bateman stars as Guy Trilby, a 40-year-old who finds a loophole in the rules of The Golden Quill national spelling bee and decides to cause trouble by hijacking the competition. Contest officials, outraged parents, and overly ambitious 8th graders are no match for Guy, as he ruthlessly crushes their dreams of victory and fame. As a reporter (Kathryn Hahn of We're the Millers) attempts to discover his true motivation, Guy finds himself forging an unlikely alliance with a competitor: awkward 10-year-old Chaitanya (Rohan Chand of Homeland), who is completely unfazed by Guy's take-no-prisoners approach to life. (c) Focus
People Who Like this movie also like
News & Interviews for Bad Words
Critic Reviews for Bad Words
Audience Reviews for Bad Words
½
Bateman's directorial debut didn't have too much fanfare attached, but that's been the case for the comedic actor, lately. Since Bateman's fame has grown with the cult following of "Arrested Development", and his turns in commercially viable faire like "Horrible Bosses" and "Couples Retreat." Still, he's not the one you go to, to head a giant comedy blockbuster like you would with Rogen, Hill, or the gals from "Bridesmaids." Lately he has been making films that are genuinely dark and grotesque, and sometimes they have a feeling of being an indie without actually being one. The script comes from Andrew Dodge, and was featured on the Hollywood Blacklist of 2011. It's easy to see why when you meet the lead character, Guy, who is the ultimate definition of a curmudgeon. He says horrible things to his reporter comrade Jenny (Hahn), other contestants (who are all children), women, passerby, and even the head of the spelling bee he is competing in. The premise is obviously great for laughs, but the real star of the film is sweet little Rohan Chand as Chaitanya Chopra, a precocious nine year old who just wants to be a friend to this middle aged man , who he is competing against. Between his wide, glassy eyed stare, his squeaky, cute voice, and his adept delivery of each punchline, he is the perfect comedic sidekick to Bateman's antics. Though the dark humor is great, occasionally it feels too forced. Reportedly Bateman and Dodge worked on the screenplay extensively because it sometimes went too far. I can only imagine what that means, since there's already course language, feces being plopped on a hotel clerk's desk, and a child meeting his first prostitute. The question isn't whether this goes too far, or course, but if it does a good job of showing character development and is genuinely funny and it is and does. In the ending scenes I felt something for Guy Trilby, though Bateman did a great job of making him the least likable character of the entire film. This is a troubled little gem of a film, but it is duly enjoyable and educational. You learn about the power of words, the competition involved in spelling bees, and how piteous hateful people truly are. While this film received mixed reviews, I would recommend it to anyone who likes dark, off-color comedies. If nothing else watch for Chopra's performance, which is both the cutest and creepiest example of a child actor latching to the material I have ever seen.
Spencer S.
Super Reviewer
½
Jason Bateman's directorial debut is a surprise, and in a good way, because its the best thing I've seen him in in awhile. And its one of those films that inspire you to spend time actually thinking of ways to verbally decimate the deserving because the film is so good at it. The premise, that of a 40 year old joining a spelling bee and "in it to win it", ultimately is lame-o and doesn't hold thought or water, but the execution is wonderful, as well as the contemplations on our relationships with dear old dad. The piece is entirely politically incorrect. You should know that. Prepare to be offended. But I loved it anyhow. Kathryn Hahn is a stand out! Alison Janney! And Rohan Chand. DON'T LOOK AT ME.
Kevin M. Williams
Super Reviewer
The end justifies the mean. Good comedic movie! Bad Words is a short, sweet and unexpectedly dark comedy with instances of pure vulgarity and vileness that is at the same time, heartwarming-yes, you read that right. Bateman undoubtedly has a keen eye for comedy. Rude, crude and sometimes completely uncalled for, Bad Words was a pleasant change of pace during TIFF and surely one of the most memorable comedies of the year. An adult, who has been a school dropout, finds a loophole in the regulations and participates in the largest spelling bee in the USA, The Golden Quill. His aim is to take revenge for something done to him in the past.
Bad Words Quotes
| | |
| --- | --- |
| Guy Trilby: | Your child is so ugly it's not even abductable. |
| | |
| --- | --- |
| Guy Trilby: | Why don't you turn that curry hole around before I tell the pilot your bag is ticking. |
| | |
| --- | --- |
| Jenny Widgeon: | Don't look at me! Don't look at me! Don't look at me! |