Basket Case 3: The Progeny
(1992)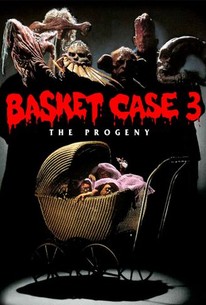 AUDIENCE SCORE
Critic Consensus: No consensus yet.
Basket Case 3: The Progeny Photos
Movie Info
Cult director Frank Henenlotter does the seemingly impossible by breathing new life into this horror-comedy series about the twisted escapades of the Bradley Brothers: the deranged but sensitive Duane (Kevin Van Hentenryck) and his monstrously-deformed former Siamese twin Belial. The previous installment had the siblings settling a nasty dispute in a particularly grisly manner... but appearances can deceive, as the original Basket Case proved with its similar denouement, which the director casually ignored in order to move things along. This time, Duane and Belial are still a bit miffed at each other but eventually make cute when it's learned that Belial is going to be a daddy -- thanks to a stomach-churning tryst with the similarly-shaped mutant Eve in the previous chapter. Things seem to be returning to relative normalcy in their newfound home -- considering that said home is Granny Ruth's sanctuary for "Unique Individuals" whose curator (Annie Ross, reprising her role) offers bed and board to an ensemble of freaks with cartoonishly-large deformities. It is only when the entire group sets out for the Georgia clinic of Uncle Hal -- a specialist who is capable of delivering Eve's plentiful offspring -- that their revels come to an end, thanks to a redneck sheriff and his thick-headed deputies, who don't exactly take a shine to their kind. It's up to Belial to save the day, which he does with bloody gusto thanks to a mechanical exoskeleton built by Uncle Hal's ingenious multi-armed son. Despite falling into some of the same pitfalls as the previous film (namely the slightly-too-outrageous mutant makeup), this is a stylish coda to the series, with strong and very funny performances from the leads and some memorably grotesque moments -- especially a bizarre road-trip sing-along by the freaks and the jarring air of "cuteness" in the disgusting birth scene.
Critic Reviews for Basket Case 3: The Progeny
All Critics (2) | Fresh (1) | Rotten (1) | DVD (1)
Here, normality is relative, while batshit comes on tap... No matter that the humour is uneven when there is so much jaw-dropping insanity to spare.
Henenlotter ends his story on a thud with a third film that fully embraces the comedy aspects of Belial's journey...
Audience Reviews for Basket Case 3: The Progeny
½
Third part in Frank Henlotter's Basket Case trilogy is an amusing little film, but it does show that Henelotter's creativity with his series is starting to wane and you can see that the film tries too hard at being an inventive horror comedy. The result is a decent film that boasts all the bizarre tricks that you'd expect from, Henlotter's series. The film is certainly lots of fun, but lacks what the first one did so well and that was being a well made low budget horror yarn that used some great special effects to create something totally off the wall. The second one was well made as well, and offered a new twist on the first. This third part is much more ridiculous and in many ways it succeeds at being quite different than the previous two entries. If you're looking for a piece of eccentric cinema, check this film out as it is among the most insane films of the genre. Henenlotter may have made better films, but Basket Case 3 is still entertaining despite the tongue in cheek approach to the material, and it definitely should appeal to fans of the first two films. I enjoyed the film, but felt it was a little bland due to the fact that Basket Case was such a great little low budget horror flick. The film needed a bit more substance to its story, and it could have been slightly better as well. However this is a decent final entry in the Basket Case entry, and it's a good thing that they didn't keep making these movies. At least they made a fairly entertaining third part that had some good moments despite its flaws.
In which Duane continues along the path of insanity while Belial becomes a father, and then later, Robo-Belial. In any other series of films, such things may seem strange...
Marcus Woolcott
Super Reviewer
Basket Case 3: The Progeny Quotes
There are no approved quotes yet for this movie.