Batman: The Dark Knight Returns, Part 2
(2013)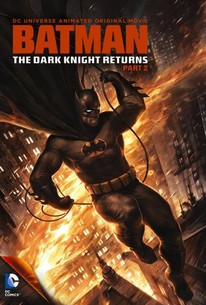 AUDIENCE SCORE
Critic Consensus: No consensus yet.
Batman: The Dark Knight Returns, Part 2 Photos
Movie Info
The Dark Knight, along with new sidekick Robin, have finally reclaimed Gotham City and allowed a ray of hope to penetrate the reign of terror cast by The Mutants. With Batman back in the spotlight, the extended media coverage has awoken a far worse evil at Arkham Asylum, The Joker! A global catastrophe races towards Gotham and with it comes a familiar face, The Man of Steel, though this time he has Batman in his sights. Witness as the aging Dark Knight wages a tireless war against crime while proving that courage and will are indeed timeless.
Critic Reviews for Batman: The Dark Knight Returns, Part 2
All Critics (3) | Fresh (3) | Rotten (0) | DVD (1)
It's rated PG-13, as was its predecessor, but it's full of gore and pain and trauma...A worthy finale.
A fully-realized achievement that does right by fans of the source material and is the new standard of excellence for Warner animated films.
Audience Reviews for Batman: The Dark Knight Returns, Part 2
With much bigger reveals and a faster pace, "The Dark Knight Returns: Part 2" is leaps and bounds better than the first part, which itself was a very good film. The Justice League has existed in the past, the Joker is on the rise for one last fight, and older Superman is there as a watchful protector, and will do anything to help, even if that something is taking on the Batman. This film explores the dark character he has become even more and the action is much more fearsome. I was hooked into every second of this finale. This is a two part event that I truly think is unmissable, even for casual fans.
Miller's take on Batman and Superman are a little disconcerting: I kept waiting for Batman to totally own the Joker, but it never happens. Supes has his hands full with a nuclear bomb. These heroes have to work to win, and work hard. It was a game changing perspective and thereby made this the most distinctive animation of the DC/Warner Brothers canon. Must see.
Kevin M. Williams
Super Reviewer
Perfectly adapted, there's really very little to complain about. The animation is stellar and just like Part1 the voice acting and dialogue is remarkably well done. The only gripes anyone would have with the film is in fact the comic-book pacing and division of story archs (The Joker and then finally the showdown with Superman) but I'd rather they stayed loyal to the book than attempt their own retelling.
Drake Tsui
Super Reviewer
Batman: The Dark Knight Returns, Part 2 Quotes
| | |
| --- | --- |
| Bruce Wayne/Batman: | He'll still be weak, between the nuke and so little sunlight. Just how weak we'll see when he finds my first surprise. |
| Robin: | Yeah, but how long you expect to last against him? |
| Bruce Wayne/Batman: | Long enough. |
| Robin: | Boss. I'm trying to get the plan here. I mean, you gonna die tonight or what? |
| Bruce Wayne/Batman: | Figure I will. |
| | |
| --- | --- |
| Bruce Wayne/Batman: | Ever ride a horse before? |
| Robin: | Don't think I've ever seen a horse before. |
| Bruce Wayne/Batman: | You're about to learn fast. |
| | |
| --- | --- |
| Bruce Wayne/Batman: | You say you answer to some sort of authority. They only want me dead because I'm an embarrassment. Because I do what they can't. What kind of authority is that? Superman: It doesn't matter. It's their world, and they won't stand for you anymore. If it isn't me, it'll just be someone else. |
| Bruce Wayne/Batman: | Really? Who do they send after you? |