Beach Babes 2: Cave Girl Island
(1995)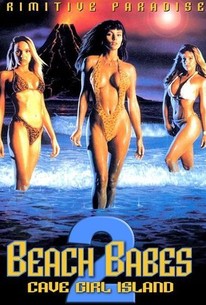 AUDIENCE SCORE
Critic Consensus: No consensus yet.
Beach Babes 2: Cave Girl Island Photos
Movie Info
In this low-budget adventure, sexy sirens from space land upon a remote island and battle a crazed control freak and dinosaurs on behalf of the beautiful natives.
Critic Reviews for Beach Babes 2: Cave Girl Island
There are no critic reviews yet for Beach Babes 2: Cave Girl Island. Keep checking Rotten Tomatoes for updates!
Audience Reviews for Beach Babes 2: Cave Girl Island
Goddammit. What did I expect, right? I found this at a garage sale and had to pick it up. How can I loose for a dollar right? Well I was kind of hoping for the ridiculous brilliance of Alex Sessa's Amazons or Lucio Fulci's Conquest... of course you're never gonna beat those, I had my hope. When I stuck the tape in the player I got a Full Moon video logo pop up, and that tipped me off for what I was in for. However, I wasn't expecting an such an idiotic film that's actually a soft-core porn. You can read the synopsis for the plot, but what it won't tell you is that this thin story is complemented by extended dance scenes, (and no not song and dance, a la Estaire/Rogers, but bad music and shaking hips) and silly sex scenes that appear to be run through twice, as half way through the characters seem to regain clothes magically and repeat the exact same actions. But there's good points. First of all, if you don't need to watch all the sex and dance scenes you can fast forward through them and be done with the film in about 45mins. Also the performance of the big bad evil guy is fun to watch. The overall production as well is intriguing, just to see how the filmmakers cut corners and used their pithy budget to it's full-ish extent is actually really interesting from a filmmaker's (or wannabe) point of view. Anyway, any person should know what their getting when they pick up this title, and not be hope for anything else, like I did.
Patrick Dolan
Super Reviewer
Beach Babes 2: Cave Girl Island Quotes
There are no approved quotes yet for this movie.