Beach Rats
(2017)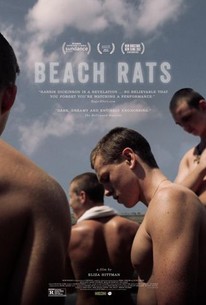 TOMATOMETER
AUDIENCE SCORE
Critic Consensus: Empathetic and powerfully acted, Beach Rats takes a clear-eyed yet dreamlike look at a young man's adolescent turmoil.
Movie Info
On the outskirts of Brooklyn, Frankie, an aimless teenager, suffocates under the oppressive glare cast by his family and a toxic group of delinquent friends. Struggling with his own identity, Frankie begins to scour hookup sites for older men. When his chatting and webcamming intensify, he begins meeting men at a nearby cruising beach while simultaneously entering into a cautious relationship with a young woman. As Frankie struggles to reconcile his competing desires, his decisions leave him hurtling toward irreparable consequences. Eliza Hittman's award-winning Sundance hit is a powerful character study that is as visually stunning as it is evocative.
News & Interviews for Beach Rats
Critic Reviews for Beach Rats
Audience Reviews for Beach Rats
Far less complex than it tries to be but Harris Dickinson's performance is stunningly raw.
Alec Barniskis
Super Reviewer
½
Over the past year, I've been questioning a lot about myself, like who I am and why I feel the way I do about certain things. Things like Moonlight. Why do people like it so much? I didn't hate it, but I didn't think much of it. It seems like society demands that you decide to either love Moonlight or not. I don't like being forced into such a binary existence. A lot of my peers tell me that it's a masterpiece, and I sometimes feel forced to go along with them just to fit in. I just want to be me and like the movies I like without all this pressure and sometimes full-on hatred. Anyway, that has absolutely nothing to do with Beach Rats, a film about a young man struggling with his sexual identity unbeknownst to his peers and family. It's pretty and pretty slow. As the trailer suggests, there are definite visual hints of Harmony Korine, especially Spring Breakers, and it shares a common setting with Kids. There's also a bunch of gay sex and man ass if that's your thing. Harris Dickinson in his breakout role does a great job at portraying a vacuous, pill-crushing millennial struggling with his sexuality, but the inescapable truth is that Beach Rats really is trying to be the white version of Moonlight with less visual flair and without the structural innovation or dynamic performances.
K Nife Churchkey
Super Reviewer
AB-SOLUTION - My Review of BEACH RATS (3 Stars) If you're gonna do a movie about a young, gay man struggling with the closet, you had better bring something new to the table or else risk a DTD Rating (Done To Death). Writer/director Eliza Hittman has style to burn and a knack for getting natural performances from her cast, but I'm not convinced she's saying anything new. BEACH RATS feels like the result of a Larry Clark/Terrence Malick/Andrea Arnold summit meeting, with the main power point presentation being called, "How Can You Be Gay While Still Being Able to Play Handball With Your Totally Useless Stoner Buddies?" While not breaking new ground, Hittman makes an instant star out of her leading actor, Harris Dickinson, an English actor, who, of course, nails his Brooklyn accent. Aussies and the English always do great American accents, but not the other way around. Discuss. Dickinson plays Frankie, who lives in a messy house with his slyly observant mother and rebellious little sister. He cruises online to hookup with men, and I couldn't help but wonder what year this movie is supposed to take place. Everyone has smart phones and take a lot of selfies, so it must be present day, but the website he uses seems fresh out of 2009. Think Chatroulette for gay guys who mostly want to get high with each other. I would think that if you're a closeted gay guy, you'd use Grindr instead of a site on a home PC that's open discovery by your Mom or pesky sister or deadbeat friends. Just sayin'. Maybe this was a script Hittman had laying in a drawer for years and nobody said anything about updating it. Or maybe Brooklyn kids be like kicking it old school, know what I'm sayin'? Either way, we follow Frankie and his buddies around as they get high, play handball, and...did I mention they get high? A lot? Frankie has an underwear model's body, a dewy complexion and fill lips, all of which make him desirable to just about anybody. He's got abs, people! He's straight out of an old Calvin Klein ad or Fiona Apple video. Frankie has his eye on a girl named Simone (Madeline Weinstein), who he seems to use as his beard. More often than not, he meets guys online and has sex with them in remote seaside cruising areas or cheap motel rooms. With Simone, he pretends to be too high to have sex or he'll treat her badly on purpose while still maintaining his cover. Through it all, Dickinson finds a quiet sweetness to his role. When he apologizes to Simone, for example, he approaches her with sincere kindness, even though we know he's still using her. It's quite a tightrope he walks with his performance, and he skillfully succeeds. While not strong on story and at times repetitive, BEACH RATS feels real. Frankie is too cool to ever really panic, even when he's close to getting caught. He keeps his cool, because he's been so immersed in straight culture he doesn't seem to know any other way. He's always telling guys that he doesn't even really know what he likes, and you believe him. Things get a little darker in the final stretch, but Hittman keeps the dangerous elements at a believably low boil. Too low for some. At the screening I attended, the audience just wasn't having this film, especially its abrupt, somewhat unresolved ending. I personally appreciated where this film leaves its characters. Dickinson shows us something new in Frankie's eyes as he looks at something previously discussed in an earlier scene. We feel a slight shift, and for me, it's enough. Hitman doesn't go for cheap theatrics. An early encounter with a older man leads to an awkward reveal later on, yet Hittman doesn't ramp up any false drama. Frankie keeps his cool, because he's used to playing things that way. Bit by bit, the film strips away Frankie's masks and tries to find the real guy underneath. Hitman and Dickinson succeed beautifully, even if BEACH RATS feels like, as one person I know put it, "the best gay movie from 2009 that somehow got made today".
Glenn Gaylord
Super Reviewer
Beach Rats Quotes
There are no approved quotes yet for this movie.