Beethoven's 4th
(2001)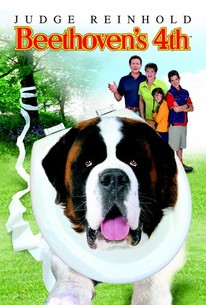 Movie Info
Beethoven, the lovably large St. Bernard, is back in the direct-to-video sequel Beethoven's 4th. Humans Judge Reinhold, Julia Sweeney, and Matt McCoy co-star with the canine in this warm-hearted romp aimed at the entire family. Those who enjoyed the other films in this series will more than likely enjoy this entry.
Critic Reviews for Beethoven's 4th
Audience Reviews for Beethoven's 4th
Wow, this crappy as hell sequel was dreadful to sit through. This franchise has been stretched out way too much. For me, there was absolutely nothing to enjoy about this mess. All the jokes fall flat on their ass, all the characters were annoying, the dialogue and script were terrible, and all the directions the whole plot and story went to were completely unnecessary and David Mickey Evans directs this horrible piece of crap with no skill or passion at all. The entire cast did terrible and the acting was not good at all. I did not enjoy the dog scenes because they were completely unoriginal and they were the same kind of dog scenes that were already shown in the other films. Judge Reinhold was completely bland and stupid and he makes for a bland actor with no charisma whatsoever. This film definitely makes for one of the worst in the franchise and this one makes the first two Beethoven movies look good.
Wesley Whited
Rodrigo Ramirez Corona
Super Reviewer
Okay, now they have to stop, and if they make anymore I will cry. This film is on the edge of me actually liking it. They grab a halfway decent cast and play out every hair of humanity the franchise has left. There may not be much, but this direct to DVD film is better than the previous 2 installments, but it should have ended after the first film, which was great!
Beethoven's 4th Quotes
There are no approved quotes yet for this movie.
Discussion Forum
Discuss Beethoven's 4th on our Movie forum!