Beethoven's Big Break
(2008)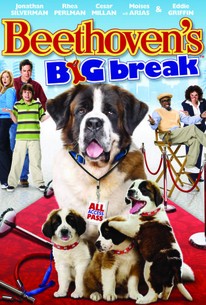 AUDIENCE SCORE
Critic Consensus: No consensus yet.
Beethoven's Big Break Videos
Beethoven's Big Break Photos
Movie Info
Jonathan Silverman, Oscar Nunez, Cesar Millan, Rhea Perlman, and Eddie Griffin headline this installment of the popular film series featuring everyone's favorite fun-loving St. Bernard. Animal handler Eddie (Silverman) may deal with some of the best beasts in the business by day, but when it comes to his personal life there are no pets allowed. So strict is Eddie in enforcing this policy that when his young son Billy discovers a stray dog named Beethoven and his young litter of puppies, he insists that the boy find another place for the homeless pooches to live. But when dog-nappers make off with the canine star of the latest film that Eddie is working on, producers start to turn up the pressure for Eddie to find a replacement. Now, the harried father's only hope is to replace the missing canine with Beethoven, a natural star if there ever was one. Of course it doesn't take long for Beethoven to win Eddie's heart, and take Hollywood by storm, in the process proving that you can teach an old dog new tricks after all.
Critic Reviews for Beethoven's Big Break
All Critics (1) | Fresh (0) | Rotten (1) | DVD (1)
offers plenty of slapstick moments and a fair share of burps and farts, which make the movie a sure-fire hit for young kids

Audience Reviews for Beethoven's Big Break
Another dumb addition to a long line of unnecessary sequels and thankfully the last. With the last film being a little different, this one however is yet another Beethoven movie that refuses to distinguish itself from the others. This Beethoven movie is about a film crew filming a Beethoven movie, because that is just what the film industry needs right now right? The characters are once again annoying and you do not care about them. The jokes remain the same that were already on the other 5 films. But what really bothered me once I noticed it was the lizard in the film, whenever it would run around it would look like a fake and unrealistic cgi creature and the crew behind the movie could have used a real one instead of going the cheap route and using a computer lizard. I guess the movie would be good for 8 year olds, I will give it that but nevertheless, this film still sucks. Now, I can officially say I am done watching and reviewing the franchise and now I can move on.
Wesley Whited
Eddie, a struggling animal trainer and single dad suddenly finds himself the personal wrangler for a large and lovable St. Bernard whose fabulous movie "audition" catapults the dog to stardom. However, a trio of unscrupulous ne'er-do-wells have plans to kidnap the famous dog and hold him for ransom.
Danielle S
Silly kids stuff. Very obvious and predictable. The acting is extreme and unconvincing. It may entertain kids and the young teen crowd, but adults will get bored.
James Higgins
Beethoven's Big Break Quotes
There are no approved quotes yet for this movie.
Discussion Forum
Discuss Beethoven's Big Break on our Movie forum!