Behind the Planet of the Apes
(1998)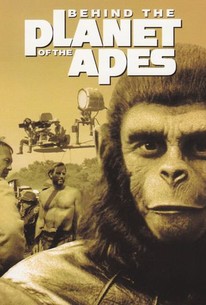 Behind the Planet of the Apes Photos
Movie Info
This documentary takes a look back at the making of Planet of the Apes. Not just a campy sci-fi thriller, the film was also an expression of sublimated fears of a world wracked by the Cold War. Special attention is paid to the makeup that made viewers forget they were watching people in ape costumes. Scattered throughout are interviews with cast members like Charlton Heston and scenes that never made it up from the cutting room floor.
Cast
News & Interviews for Behind the Planet of the Apes
Critic Reviews for Behind the Planet of the Apes
Audience Reviews for Behind the Planet of the Apes
Very interesting documentary on the original five films and their cultural significance.
Marcus Woolcott
Super Reviewer
Behind the Planet of the Apes is a fascinating retrospective of the Planet of the Apes franchise. Hosted by Roddy McDowall, this documentary follows the production of the five original Planet of the Apes films and the two spin-off television shows. Loaded with tons of interviews from the casts and crews, including Charlton Heston, Kim Hunter, Linda Harrison, Richard Zanuck, and John Chambers, a comprehensive insider's perspective is presented. And, the impact and significance of the films are discussed with film historians. Informative and captivating, Behind the Planet of the Apes provides an in-depth look at one of the most influential series of the science fiction genre.
Dann Michalski
Super Reviewer
½
An excellent exploration of the development of the five film series plus the animated and live-action television spin-offs. Planet of the Apes was one of the earliest franchises to capitalize on merchandizing. Observing the make-up process and early screen tests are especially intriguing. Roddy McDowall hosts and several members of the cast and crew share their insights. Historians and critics talk about how the sci-fi genre allowed the series to explore social issues that otherwise would be too taboo.
Byron Brubaker
Super Reviewer
Behind the Planet of the Apes Quotes
There are no approved quotes yet for this movie.