Berkeley in the Sixties
(1990)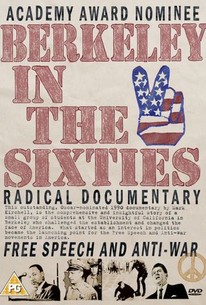 Berkeley in the Sixties Photos
Movie Info
This Oscar-nominated documentary examines the role of Northern California's most famous campus in creating the protest movements of the '60s, including interviews with 15 former campus activists. The film also follows the rise of such groups as the Black Panthers and examines specific protests, like that held in People's Park.
Critic Reviews for Berkeley in the Sixties
All Critics (7) | Top Critics (2) | Fresh (7) | Rotten (0)
A significant docu in which the director lets his rich material speak for itself
...as complete a picture as possible in less than two hours. And you don't even have to smell the tear gas.
Audience Reviews for Berkeley in the Sixties
The students' rights movement, the anti-war movement, and the resulting riots are romanticized in this documentary. It's hard to watch this film without recognizing what happened to the political energy of the sixties during the eighties. Yuppie and Baby Boomer activists became soccer moms and hockey dads more concerned about soybean futures than what their former nemesis, Reagan, was doing to the country. But the interviewees were carefully chosen: those who continued the plights of their youth are the only ones represented in the film. What is more, the police and university administrators come off as universally deplorable, anti-democratic fascists; the police look more like storm troopers than cops. All this is not to say that I didn't learn anything from the film or that it was bad, but it's certainly an agenda film, and the criticisms of its heroes are limited to not having a complete political agenda - a criticism that is light and venial. Overall, I think this is a film for a specific audience, one that is comprised of people who wish to delight in the sixties no matter how myopic they look at the time.
Jim Hunter
Super Reviewer
Berkeley in the Sixties Quotes
There are no approved quotes yet for this movie.