Better Living Through Chemistry
(2014)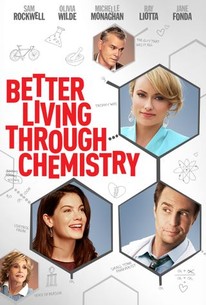 TOMATOMETER
AUDIENCE SCORE
Critic Consensus: Better Living Through Chemistry proves suburban satire and a talented cast can be mixed together to produce a disappointingly tepid blend.
Better Living Through Chemistry Photos
Movie Info
A small town pharmacist's uneventful life is turned inside out when a chance encounter with a lonely trophy wife turns into a walk on the wild side in the murderously funny dark comedy, Better Living Through Chemistry. Doug Varney (Sam Rockwell) is the model of suburban respectability-until the night he delivers a prescription to the home of Elizabeth Roberts (Olivia Wilde). Gorgeous, seductive and multiply addicted, Elizabeth eagerly introduces Doug to extra-large martinis, uninhibited bedroom behavior and the illicit pleasures of the pharmacopeia he has access to in his store.(c) Goldwyn
People Who Like this movie also like
News & Interviews for Better Living Through Chemistry
Critic Reviews for Better Living Through Chemistry
Audience Reviews for Better Living Through Chemistry
Sam Rockwell is one of those guys that, just by being in a film, instantly makes it better. I just think there's something about him that brings some life to otherwise lifeless scripts. As you may have noticed by the score, this is one of this films that Rockwell gives life to and would have otherwise been a pretty bad movie without him. Though, to be fair, the film does have a pretty solid cast even if Rockwell wasn't there. It's just that they don't really play much of a part of impacting the film's quality one way or the other. But the film really isn't that good. It's fairly watchable, at best, but it feels like one of those movies that wants to be dark but it doesn't really have the balls to go all the way. It gives off the appearance that it's dark, but it's really anything but. Particularly when, at its core, in some strange way, this is meant to be a crowd-pleaser. Rockwell's character is likable enough that you want for him to change and for him to realize true 'happiness', if you can call it that, but the film has him do some pretty terrible things and yet he never suffers any consequences of his actions whatsoever. He could've still come to regret it, but it seems that no matter what Rockwell's character does, he's just gonna get away with it because that's just the way it is. And it just takes all the importance and weight out of anything that happens in the film, because you know that no one is ever gonna reap what they sow. So, why exactly, should I care about anything that happens? Like I mentioned, it gives off the appearance that it's dark but it's really anything but. It just lacks an edge and a refinement to the script that was more than necessary to make its story far more effective. It's watchable, at best, but I cannot really recommend this. Sam Rockwell's effort simply does not match the effort put in to making the script better or somewhat interesting. Can't really recommend this, though. Watch at your own risk.
Jesse Ortega
Super Reviewer
While it delivers a few laughs, Better Living Through Chemistry is a poorly made and disjointed dark comedy. Emasculated and demeaned by his wife and family, a small town pharmacist has an affair with a trophy wife who leads him down a path of crime and drug abuse. Starring Sam Rockwell, Olivia Wilde, and Michelle Monaghan, the film features and impressive cast; and Rockwell in particular gives a strong performance. But the characters aren't really that likable. And the writing is unfocused, not quite knowing what kind story it's telling. A problematic film, Better Living Through Chemistry is a jumbled mess that doesn't quite come together.
Dann Michalski
Super Reviewer
½
So, there are two grunge songs of the same name that I would rather not make quote, although I do prefer grunge a bit more than the Fatboy Slim album of this name. There are worse beat musicians, but Fatboy Slim can't "beat" people in the head quite as well as good, old-fashioned rock and roll, whose stars' tropes seem to be mimicked with a lot more effectiveness by this film's lead. Yup, it's "Sex, Drugs & Sam Rockwell"... or something less creepy-sounding. This film's actual title was taken from a DuPont advertising slogan, and now it sounds more like an advertising slogan for some sort of a dating website or something. This film may as well be about that, because even though this cat is landing Olivia Wilde, just when you thought that the face matched the hot pictures on the profile, she ends up being a seriously bad egg. Speaking of advertising, let me stress to the young men out there that no matter how miserable your life is, if you have an affair with a beautiful woman, then all you're going to end up with is a hollow, debauched onslaught of sex, joyrides and narcotics which make you feel amazing. ...Well, maybe I would be a better marketer than I would a public service announcer, but make no mistake, this film takes some dark turns, and takes a bit of an uneven path to get there. Unevenness isn't a particularly huge issue, at least for the most part, begetting a point in which Olivia Wilde's Elizabeth Roberts character is abandoned for a long, long time, and more often begetting a less, but nonetheless pressing issue in which a prominent use of stylization which peaks Jane Fonda's somewhat annoying storybook narration really breaks a sense of subjectivity to the largely grounded storytelling. I don't think that there's any keeping the style from getting unnerving, even with the unevenness taken out of account, because as delightful as the style gets to be, it just as often gets lost in an overt quirk that isn't even original. This latest addition in a movement of simultaneously edgy and quirky comedies (Thanks a lot, Wes Anderson) seems to be trying to be refreshing, and it is in a lot of ways, until falling as predictable by way of stylistic tastes, story tropes and character types which are typical for flicks like this. Among the tropes is, of course, subtlety issues, which seem to be self-aware, yet nonetheless questionable in their thinning down layers and well-rounded believability in the drawing of characters who may mark a peak in improbability, yet are still sometimes joined by lapses into borderline ridiculousness in a largely surprisingly convincing story concept. Believability is actually among the handful of things the story concept has going for it, because even though this subject matter is plenty intriguing, the plot itself is rather straightforward, unable to afford all that much superficiality in the story, which, make no mistake, gets to be superficial, whether it be slapdashing through the development of the leads' obsessions, simply sanitizing tense happenings and edgy themes. What the film lacks in intensity it makes up for with effectiveness in its own style so realized that the final product all but out-and-out rewards, but the direction this film takes is plagued with natural shortcomings which make a somewhat straightforward plot feel even more simple, and which are themselves emphasized by hints of overambition that bloat this quirky and formulaic affair with flaws. As the reception of this under-seen and therefore under-reviewed film will tell you, this film will hit with some, and really miss with others, and for me, while my issues stand firm, I was surprised by how much I enjoyed this film, with its quality wit, style and, well, music. This type of film doesn't ask much from its score composers, and Andrew Feltenstein and John Nau could have easily gone the usual route in supplementing this flick's quirky fluff, so one can imagine my surprise when I found that their score is, not simply among the best aspects of this film, but likely to end up ranking among the better of 2014, being eventually underused for an unoriginal song soundtrack, - that is perfectly placed and filled with enjoyable tunes - but always being a delight when it comes into play with elements of indie, wordless vocalizing, soundscapes, post-rock, and other experimentalism which does something genuinely new with a scoring formula that we all thought was tired and trite at this point. It's as if Feltenstein and Nau caught the creativity bug from directors Geoff Moore and David Posamentier, whose style may get lost in its quirk, but is impeccable for what it is, playing with Jonathan Alberts' editing with stellar snap, colorful visuals with dynamic angles, and airtight, dynamic pacing with generally flaring momentum. This sort of film focuses a lot on liveliness, and with this particular film, Moore and Posamentier deliver on nothing less than overwhelming entertainment value, and that, combined with a few occasions of effective edge, reflects both a great deal of potential within the newcoming directorial duo, and some sort of potential within a simple and sometimes simplified story. Again, this story is too straightforward to thoroughly compel with storytelling this dramatically superficial, but the subject matter, no matter how familiar, is promising, carrying themes on going to extremes to find happiness behind a conceptually extensive, character-driven plot. Moore's and Posamentier's script takes on a promising, if somewhat simple plot with little edge, and only so much more extensiveness, and yet, I must admit that when the writing hits, it hits pretty hard, with razor-sharp dialogue and a clever sense of humor, in addition to a number of memorable set pieces, all of which hold your attention until the plot begins to thicken, seeing Moore and Posamentier finally get down to some thorough, layered characterization and dramatic gut, even if they have to take a somewhat improbable route to get there. The writing is pretty strong in a number of key places, although it does still take too long to bring in some weight to the characterization, as opposed to the performers, for each member of this cast brings nuance, and that especially goes for leading man Sam Rockwell, who continues to showcase his being a terribly underappreciated talent, initially playing subdued Sam Rockwell, complete with a grounded charm, but slowly, yet surely, and remarkably projecting a sense of rise and fall in a man who finds his life suddenly pick up, and just as suddenly go threatened, augmenting his charm and commitment to energy, before packing on devastating emotional breakthroughs so stellar that they all but secure the performance as one of the best of the year. It's a journey watching Rockwell evolve throughout the course of this film, and it's trippy seeing how his performance reflects an evolution in the quality of the film, which certainly doesn't range from pretty good to stellar, like Rockwell, but goes from fair, to decent, to thoroughly compelling around the latter acts, - rounded out by a safe, but satisfying ending - not being consistent enough with that compellingness to reward as a whole, but surprisingly coming close enough to endear the patient with high-caliber style and some solid highlights, spare, though, they may be. In conclusion, there are occasions of great unevenness in focus, and many moments of moderate unevenness in style that is often overblown within this rather formulaic, unlikely and ultimately somewhat simple film, which feels too superficial to reward, but comes close, thanks to the great score work and directorial style, solid highlights in directorial thoughtfulness and clever writing, and outstanding performance by Sam Rockwell that make David Posamentier's and Geoff Moore's "Better Living Through Chemistry" thoroughly entertaining and sometimes genuinely compelling as a portrait on finding happiness by way of problematic means, in spite of its shortcomings. 2.75/5 - Decent
Cameron Johnson
Super Reviewer
Better Living Through Chemistry Quotes
There are no approved quotes yet for this movie.