A Better Tomorrow III
(1989)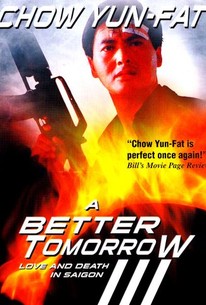 AUDIENCE SCORE
Critic Consensus: No consensus yet.
A Better Tomorrow III Photos
Movie Info
Tsui Hark directs the second film to follow John Woo's A Better Tomorrow; this film, which takes place in 1974 is actually a prequel. Chow Yun-Fat stars as a younger Mark, on a mission to get a friend (Tony Leung) out of Vietnam, when he runs up against Ho (Tokito Saburo), a local crime lord. Along the way he meets Kit (Anita Mui), a female gangster who helps the naïve young Mark become the highly capable gunman of the first film. This film emphasizes romance in a greater way than the previous two films, probably due in part to the change in directors.
Critic Reviews for A Better Tomorrow III
There are no critic reviews yet for A Better Tomorrow III. Keep checking Rotten Tomatoes for updates!
Audience Reviews for A Better Tomorrow III
When their partnership dissipated in 1989, Tsui Hark ran with John Woo's idea for "A Better Tomorrow" prequel set in war torn South Vietnam. Chow Yun-fat reprises his role from the first film and transforms into the Mark Gor character audiences originally fell in love with...under the tutelage of femme fatal Anita Mui? Hong Kong audiences didn't buy it; nevertheless, some Western film critics including Pauline Kael found serious merit in the film. The first two-thirds of "A Better Tomorrow III" actually look sharp and feel good, too, in spite of some of the aforementioned suspect screen writing, however, the final portion of the film is so bad and Tsui is so far out of his depth essaying Woo's style that this "A Better Tomorrow" prequel officially turns apocryphal. Chow subsequently passed on future offers from Tsui.
Adam Laidig
½
The third of the series, but director is switched from John Woo to Tsui Hark, who produced the first and second ones. Chow Yun Fat's character has same name as the one in the first one, but story seems to set in much earlier, so this one can be taken either as totally different film or as a prequel-like side-story. Because of the switch of the directors, this one has totally different mood from the last two John Woo films. Rather, this is the complete Tsui Hark film, and I doubt that John Woo has much to do with this one. Tsui is a Vietnam-born Chinese who immigrated to Hong Kong, and this film sets in 1974 Vietnam when the Vietnam War is ending, and Saigon is in total chaos. Thus, for Tsui, this film is very personal in the first place, even though it is borrowing the name of the series "A Better Tomorrow." Comparing to John Woo, as a wuite big fan of Tsui Hark, I think Tsui is better in directing romance and filming a heroin not only beautiful but cool. I've never seen any woman who shoots machineguns as cooly as Anita Mui, who passed away in 2003. Tsui is also good at adding a spectacular mood to a film, and you'd know why he is sometimes called "Spielberg in Hong Kong" after you watch the scenes with large-scale sets and extras in this film. One thing dissapointed me is that Tony Leung Ka-Fai's voice was switched to someone else's in voice-over, because I love his original voice.
Naoya Kugimiya
Interesting twist in the series. Set before part one, it adds a love story in the mix which you will love or hate. It is a bold move by Tsui to take an action series known for its mind numbing violence and try and add something new to the mix. Not good, but worth at least one viewing for fans to make an opinion.
Colin Rodgers
A Better Tomorrow III Quotes
There are no approved quotes yet for this movie.
Discussion Forum
Discuss A Better Tomorrow III on our Movie forum!