Beverly Hills Ninja
(1997)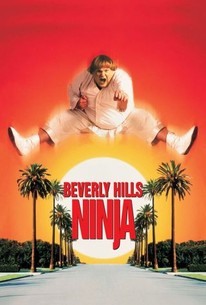 Beverly Hills Ninja Photos
Movie Info
Chris Farley stars as an unusual ninja fighter in this over-the-top comedy. An elite society of Japanese warriors have prophesied that one day a blonde-haired, fair-skinned child will come to their village and lead them as a fighter of remarkable skill and bravery. So when an American child who fell overboard on an ocean liner washes up on their shores, they adopt him as one of their own and patiently instruct him in the ways of a ninja. Trouble is, the child, whom they name Haru (Chris Farley), grows up to be fat, clumsy, not especially bright, and startlingly inept as a warrior. Undaunted, Haru struggles on with his ninja training, and when Alison (Nicolette Sheridan), a beautiful woman from America, requests a ninja fighter to return with her to the States and protect her from her criminal-minded boyfriend and his Yakuza associates, Haru eagerly accepts the assignment. Haru's minders see trouble brewing, so they secretly send along a fellow ninja, Gobei (Robin Shou), to watch his back, although this hardly prevents Haru from posing a deadly menace to inanimate objects everywhere. Jackie Chan was at one time announced to co-star in this film, which would prove to be the last Chris Farley vehicle released before his death in late 1997, though two other films he completed before his passing were released in 1998. ~ Mark Deming, Rovi
People Who Like this movie also like
News & Interviews for Beverly Hills Ninja
Critic Reviews for Beverly Hills Ninja
Audience Reviews for Beverly Hills Ninja
½
I suppose it was too much to ask to make it through the whole of this film without hearing the songs "Kung Fu Fighting" and "Turning Japanese". Translation, this is probably and predictably the most cliched film you will most likely see...but Farley is the star so we can forgive a bit. This was the last film that was released whilst Farley was still alive I think, and despite the fact its completely a one joke/gag film its still thoroughly enjoyable. Farley is a ninja, a big fat ninja, a big fat ninja believed to be the prophesied 'great white ninja' and has been raised from birth by a ninja clan in Japan. The whole obvious gag being of course that he's not the prophesied great ninja (or is he?), nor is he really very good at being a ninja at all. The whole film is pretty close to the classic 'Pink Panther' as Farley goes on a mission to help the stereotypical sexy blonde lady whilst being shadowed by his ninja 'brother' played by D-list actor/martial artist Robin Shou. In other words a bit like 'Inspector Jacques Clouseau' and 'Kato'...well I think so. As I'm sure many of you can guess this leads to huge amounts of childish visual gags and childish prat falls of epic Farley proportions. Yes we've seen it all before by now with Farley, his quirky rubber faced antics, his slapstick, his surprising agility and his over the top loud outbursts...but dagnabbit it still makes me smile. Farley may not be to everyone's taste with his extremely simple dumb routine but I for one love it. This setting and concept does add a nice hint of originality to Farley's portfolio even though the whole idea of a spoof martial arts film isn't. All the slapstick does get a tiny bit tiresome towards the end as the same visual jokes are regurgitated but overall its still a nice laugh out loud serving of chop socky action. As usual with Farley...brain is not required.
Phil Hubbs
Super Reviewer
Chris Farley more one time make other silly comedy, but Beverly Hills Ninja doesn't have one single not funny scene and entertaining, something rare in an American comedy movie from 90's. Beverly Hills is not the best movie by Farley, that was a unique and terrific comedian, but definitely isn't the worst and promise all the time great laughs. Fresh.
Lucas Martins
Super Reviewer
½
An average comedy from late comedian Chris Farley. Stupid in every respect, but still lots of fun, Chris Farley delivers yet another silly performance. Beverly Hills Ninja may not be Chris Farley's best effort, but it definitely has good enough moments to make you laugh. He does all his usual antics here, and he definitely knows how to make you laugh. Beverly Hills Cop is not a perfect film, but it has enough good moments to make you laugh and enjoy yourself. Chris Farley was good comedian and he always managed to make me laugh. Beverly Hills Cop isn't his greatest film, but it definitely isn't his worst. There's enough laughs in this film to make this a decent comedy, and despite the fact that it slows down somewhat, there's enough elements to enjoy in this wacky comedy to be entertained. Sadly this would be one of Chris Farley's last film roles, as he would pass away the same year from a drug overdose. Looking back at his short career, he has made quite a few memorable comedy films. Never perfect, but funny enough to uplift your mood. Beverly Hills Ninja is such a film, though not his best, this film has plenty of good, funny elements to deliver you a great time. What do you expect from an eccentric comedian such as Chris Farley? He was unique and watching his films, you'll understand why. Beverly Hills Ninja is a fun comedy with good laughs and has everything you'd expect from a Chris Farley film, however my personal favorite of his, is Tommy Boy.
Beverly Hills Ninja Quotes
| | |
| --- | --- |
| Haru: | Did I say ninja? I meant "Ninny", Haru you are such a ninny |
| Haru: | Did I say ninja? I meant 'Ninny', Haru you are such a ninny. |