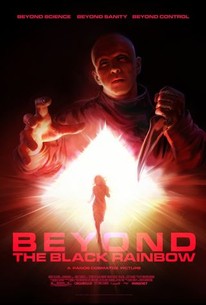 Beyond the Black Rainbow
2011, Sci-fi, 1h 49m
36 Reviews
2,500+ Ratings
Where to watch
Rent/buy
Rent/buy
Rent/buy
Rate And Review
Beyond the Black Rainbow Photos
Movie Info
A heavily sedated woman (Eva Allan) with ESP tries to escape from the secluded commune where she's been held captive.
News & Interviews for Beyond the Black Rainbow
Audience Reviews for Beyond the Black Rainbow
Beyond the Black Rainbow is a B-movie with great visual style and synth scoring. I wanted to rate it up for those alone, but still it is a B-movie and it shows. The film lacks in plot and acting. My advice is to watch the trailer and if it is something you'd like to look at and listen to then queue up the movie, but do so without expectation that you will get something of cinematic substance.

When "Beyond the Black Rainbow" was released last year, I was intrigued because the critics were saying that it was weird. But they could not articulate exactly what kind of weird, so I passed at the time. Now, after seeing the movie for myself, I understand why since even with an abdundance of disturbing imagery, it does not mean anything without any kind of context, putting it in the general neighborhood of amateur hour Cronenberg. The story such as it is concerns a clinic run by Mercurio Arboria(Scott Hylands) where Barry Nyle(Michael Rogers), a mad scientist, is performing unhealthy looking experiments on Elena(Eva Allan), a patient. Overall, the movie looks like what somebody in 1966 would think 1983 will look like.(The only cultural difference the movie points out is people being able to smoke indoors back then.) And I think I might have gone with that if not for one nightmarish image. That sole image might tie in with the movie's possible theme of the vast potential of the 60's giving way to the abyss of the 80's. Or maybe it's all about evolution. Who knows?

A mute telepathic woman is kept prisoner in a mysterious pyramid-power institute in the Reagan era in this slow paced, visually trippy pseudo-surreal sci-fi effort. The style over substance aesthetic wears a little thin by the end, but every year should feature a film explicitly designed to accompany an acid trip, and this was 2012s best option.

Like a wet dream of Jodorowski, Cronenberg, Lynch and Kubrick's 2001 combined into one, with a distinctive creepy sci-fi movie vibe hailing from the 70s Russia. It's pretty wonderful to look and listen to while it lasts and has a creepy aura surrounding the odd narrative but I'd be lying if once the novelty is gone, it overstay's it's welcome. And how soon the novelty will start to disappear will depend a lot on the type of viewer for sure.
See Details