The Big Country
(1958)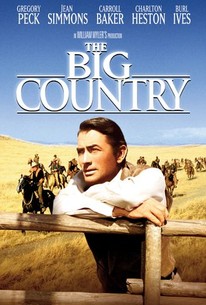 Movie Info
In The Big Country Gregory Peck plays a seafaring man who heads west to marry Carroll Baker, the daughter of rancher Charles Bickford. Bickford is currently embroiled in a water-rights feud with covetous Burl Ives, so both he and his daughter are hoping that Peck can take care of himself. But Peck, who doesn't belief in fisticuffs, appears to be a coward, especially when challenged by Bickford's cocksure foreman Charlton Heston. The far-from-cowardly Peck decides to distance himself from the machismo overload at the Bickford spread, settling for a romance with headstrong schoolmarm Jean Simmons, whose water-rich lands are being fought over by the two warring ranchers. When Jean is kidnapped by Ives' no-good son Chuck Connors, Peck decides to take action. ~ Hal Erickson, Rovi
Rating:
G
Genre:
, ,
Directed By:
Written By:
In Theaters:
On DVD:
Runtime:
Studio:
MGM/UA
Critic Reviews for The Big Country
Audience Reviews for The Big Country
½
This film certainly lived up to the "Big" in its title, because it runs almost 170 minutes, and that's too much country for one man to handle. The only thing William Wyler seemed to love more than westerns were long movies. In fact, I wouldn't be surprised if it turned out that Michael Cimino actually stole Wyler's print of "Heaven's Gate" and marketed as his own film. Yeah, I know that Wyler probably would have told us, but when he watched the film in 1980, he must have decided to make the announcement after he finished, only to die of boredom in 1981, while he was still watching the film. Such a shame; he only had two more years to go on the film. Yeah, I know, I haven't seen "Heaven's Gate" yet, so I probably have no right to call it boring, but hey, if it's anything like this film, then, well, I'm probably still gonna enjoy it, just like I kind of enjoy this film. Of course, if it is anything like this film, then chances are, it will, in fact, be slow, because although I did still like this film, I wasn't just kidding when I said that this close to 170 minute runtime is too much country to for one man to handle. You can look up, down, left and right, but you will find few major genre determiners that would describe this massive film an epic, and quite frankly, they're right. The scope of this film lacks sweep and doesn't pump too much substance into the story, leaving development lacking, lengthy scenes to feel inorganic and the film, itself, kind of dull at points. Much of the film is quiet and dry in atmosphere, with limited intrigue and oomph, and it's made all the worse by the fact that, while the film does have enough material in its script to be somewhat lengthy, it still does not deserve to run close to 170 minutes. For long periods of time, absolutely nothing happens, and what does happen is padded out to no end, resulting in a 167 minute should-be epic that just does not warrant its massive length, one of the greatest sins a film of this type can commit. So, it's absurdly overlong, dry, underdeveloped, messily structured and slow, and yet it's still pretty decent, and I'll tell you why: Because it's old. No, but seriously though, this is a film given way too much credit by the critics for nostalgia's sake, even with its many, many flaws. This is a mess of a film if there ever was one, but it is a consistently watchable film, made so engaging by its many moves that are respectable, particularly when it comes to style. If nothing else, the film is beautifully-shot, not having the broad scope of the epic that it should have been, but still have a lot of dimension. For its time, the cinematography is something to behold, and now, it's still impressively bold and lively, with handsome lighting that will have moments of being purely awe-inspiring. The film's gorgeous look is enough to sustain your attention for much of it, and the just as excellent production designs help, recreating this world with a kind of rural touch found in most westerns, as well the bleed-over of then-modern times in an organic and immersive fashion. The production is elaborate, eye-catching and supplements the engagement, which would still dissipate, were it not for the charm that really saves this film. Now, remember that although this was 1958, it was still the '50s and very much plagued by some pretty bad actresses, and there are plenty to go around here. Of course, the real stars is Gregory Peck, who was then "the" definitive star of the show, and rightfully so, based on that voice alone. Well, sure enough, Peck is electrically charismatic, especially when he plays off of the other also sharply charming members of this colorful cast, giving the film some weight and humanity; maybe not as much to warrant the gratuitously mammoth runtime, but still enough to keep you going through all of the slow spots and low point, and render this film ultimately rather enjoyable. In the end (Yeah, I'm surprised this film ended eventually, as well), the film lacks the scope and intrigue to warrant its overlong length and makes that sting all the worse with spotty storytelling, limited exposition and overall slowness throughout, but the film goes supported by gripping photography and production designs that really bring this world to life, though not quite as sharply as Gregory Peck and company, all of whom boast the sharp charisma and chemistry needed to make "The Big Country" a charming and watchable classic piece, even with its missteps. 2.5/5 - Fair
Cameron Johnson
Super Reviewer
Excellent Movie, Charlton Heston arrives in a western town looking like a typical gentlemen from the east, he has to prove himself not only to local cow hands but also to the father of his future bride. Story has many turns and twist. Interesting to see Burl Ives and Chuck Connors in this movie. A Classic that should be of value in any collection. 5 Stars
Bruce Bruce
Super Reviewer
½
It's a big movie. Don't get lost.
Bob Stinson
Super Reviewer
The Big Country Quotes
| | |
| --- | --- |
| Pat Terrill: | Hello, throw something off a chair and sit down. Would you like to try a cigarette? |
| Julie Maragon: | Where'd you get those? |
| Pat Terrill: | In the east. Don't look so shocked. I saw a woman smoking one; very elegant. [inhales - exhales] Oh well, I don't care about anything anyway. |
| Pat Terrill: | In the east. Don't look so shocked. I saw a woman smoking one. Very elegant. Oh well, I don't care about anything anyway. |
| | |
| --- | --- |
| James McKay: | Now tell me Leech, what did we prove? |
| | |
| --- | --- |
| Steve Leech: | All I can say, McKay, is you take a hell of a long time to say goodbye. |
| | |
| --- | --- |
| Maj. Henry Terrill: | What makes you think he wont [get lost in the Big Country] |
| Maj. Henry Terrill: | What makes you think he wont? |