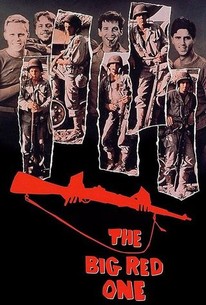 The Big Red One
1980, War, 1h 53m
49 Reviews
5,000+ Ratings
What to know
critics consensus
The reconstruction of Samuel Fuller's epic account of his days in North Africa in World War II elevates the film into the pantheon of great war movies. Read critic reviews
Where to watch
Rent/buy
Rent/buy
Rent/buy
Rate And Review
Movie Info
Having previously fought in World War I, an unnamed sergeant (Lee Marvin) now leads soldiers of the U.S. First Infantry Division through World War II. His men include conflicted marksman Pvt. Griff (Mark Hamill), pulp novel writer Pvt. Zab (Robert Carradine), Sicilian Pvt. Vinci (Bobby Di Cicco) and medic Pvt. Johnson (Kelly Ward). The soldiers adapt to the hardships of war as they see conflict in North Africa and Sicily, take part in the D-Day landings, and liberate a Nazi concentration camp.
News & Interviews for The Big Red One
Audience Reviews for The Big Red One
We follow a squad of five guys throughout the American drive of WWll. Beginning in North Africa and ending in (what used to be) Czechoslovakia, a wizened Lee Marvin leads his men in an episodic overview of the typical War Is Hell quilt patchwork, the undertone being the comraderie of unit holding them together. It's a big war though, the amount of time given to each portion feeling rushed, and therein are the strings of the puppeteer made readily apparent. Saving Private Ryan does it all better, but this one ain't a bad substitution.

Wait, I thought that Terrence Malick went on a 20-year hiatus after "Days of Heaven", but here is, only two years later, with the big comeback that they're talking about. Oh, no, wait, this is not "The Thin Red Line", this is "The [u]Big[/u] Red One"! ...Well, that was something of an embarrassing stretch of a way to point out something we were all thinking, considering that this film really is pretty distinct from "The Thin Red Line", considering that it is far from the kind of Cannes-tasticastically arty, meditative war film that Malick made, and that it would take about two decades to wake up after making "Days of Heaven". I make the comparison because I didn't figure that there was a Cannes Film Festival WWII film from America which was less remembered than "The Thin Red Line", although I shouldn't be too surprised, because unless it's "Star Wars" or a "Batman" cartoon, if it has Mark Hamill, you better believe that it's bound to fall into obscurity. Hey, Lee Marvin is here, so maybe we can confuse this with "The Dirty Dozen", or at least its sequel, "The Filthy Five". I understand that the "Filthy Fifteen" inspired "The Dirty Dozen", but it's not like anyone is going to gripe, because no one remembers this film enough to pay attention to what people call it. That's a shame, because this is kind of like a film as good as Malick's "The Thin Red Line", only without all of that boring, experimental storytelling stuff... and with much less dramatic value, and originality, for that matter. Even narratively, the film is stylized in a manner which pays tribute to old-fashioned war filmmaking sensibilities, while retaining the edge of the then-fresh movement of more brutally realist war filmmaking, and such a formula is unique in a number of ways, but is often taken advantage of so that storytelling can shamelessly lift glaring tropes, both classic and then-up-and-coming, until collapsing as surprisingly familiar. Of course, the film still manages to do only so much to get you familiar with the characters, for although, at least in the case of the leads, developmental shortcomings peak with a lapse in immediate development, there's something frequently lacking about the expository value of this layered ensemble piece, which paints somewhat thin layers to its leads, and hardly any depth at all to the supporting character roster. The film fails to flesh out its depths enough for the narrative to flow, thus, unevenness stands firm, due to, not simply the film's saying only so much about its plot at all, but to its taking an awfully long time to say only so much about its plot. I must admit that, as of the posting date of this review, I am only familiar with the "Reconstruction" cut of the film, which is surely much more excessive than the original final cut that runs exactly 39 minutes(-and-a-half, if anyone's interested) shorter, but I'm sure than any version of this film goes bloated with filler, some of which is fluffy in a way that drives tonal unevenness into this generally gritty drama, and much of which aimlessly drags out a plot which is episodic to begin with. The film isn't so much about a straightforward plot and conflict, as much as it focuses on various misadventures - both weighty and relatively inconsequential - about its leads during wartime, and the bloating really makes it hard to not feel just how disjointed this narrative is, thus, so much momentum is lost as things progress, further worn down by a certain chill to the atmosphere that ranges from bland to out-and-out dull. I was kind of expecting, or at least hoping that the film would border on outstanding, but in the end, it comes closer to bordering on underwhelming, as film which is both lazily formulaic and underdeveloped, and overambitiously bloated to the point of an aimless unevenness, made all the more distancing by a certain dullness. The final product could have gone so much further than it ultimately does, and yet, no matter how sloppy, the film rewards the patient, with plenty of entertainment and dramatic value, and even a fair deal of aesthetic value. With Dana Kaproff's score being consistently formulaic and Adam Greenberg's cinematography being often a little flat, the film's aesthetic value isn't especially solid, but a realized balance between classic and then-contemporary tastes, particularly in Greenberg's often hauntingly well-lit efforts, attractively immerses you into a unique style of mixing old-fashioned and modernistically edgy war filmmaking sensibilities. Now, what really immerses you in the time and setting of this World War II drama is Peter Jamison's art direction, which is rather basic, but subtly solid enough in its structure and dynamicity to reinforce a sense of scope that ultimately goes a long way in selling the weight of this epic drama. The story concept needs all the realization to execution that it can get, for its episodicity and familiarity limit engagement value, even in a concept that isn't even particularly outstanding, yet is still pretty promising, with dramatic and thematic value as a portrait on the various scenarios of war as seen through the eyes of men who will be changed on the battlefield, both for the better and for the worse. The power of this story concept is underplayed, but it is there to be brought to life, as it is by Samuel Filler's script, at least a times, times in which the expository shortcomings and exhaustingly aimless structural bloating is transcended for the sake of colorful realization to memorable set piece drawings, in addition to near-extensively tasteful highlights in characterization. Well, nothing sells the characters quite like their portrayers, who have surprisingly little to work with, but deliver all the same, with lighting charisma and chemistry, broken up by a moving dramatic range which punctuates a slow, but sure projection of transformation in men who are changed by war, in all of its scale and all of its horror. The acting is decidedly the most consistent strength throughout this film which meets occasions of clumsiness with many a moment of solid inspiration, but cannot be truly saved without an adequate deal of inspiration to Fuller's efforts as director, which is limited, make no mistake, or at least feels as though it is, - what with all of the missteps in the handling of overambition, and in certain dull cold spells in storytelling - yet is nonetheless there, whether it be in the staging of tense action, or in the usage of a piercingly quiet intensity that really works when it works in delicately drawing you into the heart of this opus. Fuller ultimately drops the ball much more often than he should, but one would be hard pressed to deny that misguidance overcomes inspiration, of which there is enough in style, writing, acting and direction, for the final product to transcend its shortcomings as genuinely rewarding on the whole. In the end, plenty of conventions are hit, while only so much expository depth is explored, even though the film bloats itself so much with filler which leads to an aimless sense of episodicity and unevenness, exacerbated by the coldness that could have dulled the final product down as underwhelming, were it not for the subtly attractive style, immersive art direction, generally colorful scripting, consistently endearing acting, and often effective direction which secure Samuel Fuller's "The Big Red One" as a generally rewarding saga on war. 3/5 - Good

Loosely based on a series of horrific anecdotes personally lived by director Samuel Fuller, <i>The Big Red One</i> is the director's personal feature that finally made him earn his first Palme d'Or nomination. He was asked to recall his experiences while serving as an infantry soldier in the European Theatre of the Second World War. Under these terms, it is no ordinay war feature. The narrative is intentionally disjointed into an episodic structure, like fractured memoirs of an upset soul trying to put the pieces together about violent accounts in the middle of inhuman circumstances. Several users have agreed, and I join them: the film is misunderstood. The film can be fairly credited for being the first war movie to do a number of peculiar stunts: its strength relies on the characters and the script, instead of the battle sequences, even if the film is decently accomplished from a technical point of view; it introduced terms such as "replacement", "non-Coms" and "Krouts"; it treats war as a nonsensical struggle capable of causing madness in its participants; it is the second feature to treat D-Day as an important event in the development of the film; children shape the characters' motivations. By all means, it won't provide a typical moviewatching experience, pecifically talking about the genre it treats. A good cinematography captures the magnitude of the events while keeping us distant if necessary to calture the magnitude of the violence inflicted. However, in its retellings, the movie drags in moments, and the direction is not strong enough to transmit the horrors that 5 constant years under war can provide. I am convinced we had a revolutionary masterpiece in hands with unexploited psychological potential, maybe because of getting stuck within Hollywood boundaries. Nevertheless, the quality assures a fully supported recommendation for those seeking ideas spoken in an unusual manner. A recent reconstruction runs for 162 minutes and is credited for being the fullest version of the director's vision. I am looking forward to it, because maybe there lies a great portion of the potential I felt was unexplored... if not all of it! 76/100

Sam Fuller's The Big Red One is a fine war film with stunning direction, a great story and exceptional acting. This ranks as one of the genre's finest achievements, a film that shows the harrowing nature of war, which is based on the experience of the director during his years fighting the war. I thought that this was an exciting piece of cinema. The Big Red One may have outclassed by other war films, but its impact is unmatched. This is a highly engrossing picture that is definitely going to appeal to genre fans, and there are several standout performances here as well. I've seen two previous Lee Marvin films, and I very much enjoy his work, however here, he really shines and delivers a standout performance that ranks as one of the finest I have seen of him. He really brings his character to life. Another performance is that of Mark Hamill, aside from fresh of the success of Star Wars, he had some momentum going for him, and he delivers something terrific here, I found him to be that type of character in a war film that steadily become alienated from war, and he really brought a vulnerability that was necessary to the film. With effective storytelling, Fuller crafts a picture that connects with the audience on so many levels, and in turn, it's one of the few genre classics to really thrill, and engage the viewer. Some war films tend to never get the story right, but here, considering the director was a WWII veteran; we get a different picture, a side of war that we've never seen. The Big Red One may seem a little dated by today's standards, but it's a classic war film that every film freak should view. I've watched the longer reconstruction because that was meant as the complete vision of Samuel Fuller's original work, since 50 minutes of footage were cut from the film, and it's a broad, ambitious version that really stands out among the older war pictures. The film may look dated, but it's definitely one of the finest war films ever made, and the fact that the director based it on his wartime experience makes this a definite must watch.
See Details