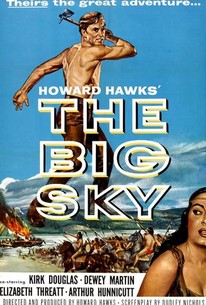 The Big Sky
1952, Adventure, 2h 2m
9 Reviews
500+ Ratings
Where to watch
Rent/buy
Rent/buy
Rent/buy
Rate And Review
Movie Info
In 1830, two tough Kentucky mountaineers join a trading expedition from St. Louis up the Missouri River to trade whisky for furs with the Blackfoot Indians. They soon discover that there is much more than the elements to contend with. Based on the novel by AB Guthrie, Jr.
Audience Reviews for The Big Sky
Howard Hawks' "The Big Sky" could be seen as the spiritual successor to "Red River", which he made four years earlier. Both are stories of the American west, of adventure and brotherhood, and the excitement of living a life of freedom in the wild. But where Red River was more a battle of wills, Big Sky is a testament to brotherly love. In it, two frontiersmen, Jim and Boone (Kirk Douglas, Dewey Martin) are fast friends seeking adventure. They find it in the form of uncle Zeb Calloway (Arthur Hunnicutt, in an oscar-nominated performance) who knows of some french traders about to travel up the Missouri river in a flat bottom boat to do some fur trading. The "big" fur-trading company in those parts has so far met with little success with the hostile indians, but this french company has a secret ace-in-the-hole in the form of "Teal Eye" (Elizabeth Threatt), a blackfoot princess whose father will surely reward them handsomely for returning her home safely. That is, if they survive their journey. Jim and Boone live out under the open sky. They feel uncomfortable in the big city and comment on how "city men walk" and how the women are cinched up in their dresses like sacks that've been tied up too tight. There is a particular irony to Boone, who hates injuns (they killed his brother, and he carries the scalp of the one who did it, according to his uncle), yet there burns within him the desire to live as they do, simply and off the land. The indians in Big Sky are treated not as "the bad guys" as they so often were in films from this period, but as individuals and individual tribes, some good, some bad. Probably the most fair treatment native Americans had received in the movies at the time. But more than anything, it's the journey upriver that features so heavily in this film. It's a journey fraught with indians, rushing waters, rattlesnakes, fires, bullets and arrows... and it's quite a satisfying journey at that.

I?ve begun to have my reservations about the works of Howard Hawks, his work always just seems kind of silly to me, especially when compared to what John Ford was doing. This is a pretty good western, but not the greatest. First of all, the film?s treatment of Indians is a little better than some of the other movies of the time (not that much, but a little). Secondly, there?s a lot of good scenery here, and the technical filmmaking is pretty good. All of that makes this worth seeing, but I can?t recommend it too strongly. I just didn?t connect with the story very much, and Kirk Douglass seems a bit out of place in this setting. Also it has a very annoying voice over.

An old movie with cowboys and Indians. This movie is OK - at least it doesn't automatically paint all Injuns as evil. Interesting that most of the time they walk the ship up the river. That certainly is not what they teach us about the river highways of Canada's fur trade.
See Details