The Big Steal
(1949)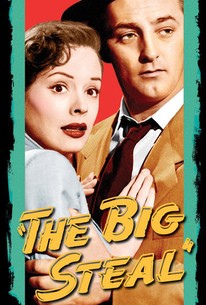 AUDIENCE SCORE
Critic Consensus: No consensus yet.
Movie Info
This breezy and unpretentious film noir from director Don Siegel starts off with fireworks. Duke Holliday (Robert Mitchum), an American army lieutenant, is on his way to Mexico by boat when he's confronted in his cabin by Blake (William Bendix), gun in hand, who plans on taking him back to the United States. Holliday gets away, pummeling Blake pretty hard in the bargain and stealing his identification, and crosses paths with Joan Graham (Jane Greer). It turns out that she's looking for the same man he is, a smooth-talking hood and grifter named Fiske (Patric Knowles), who took Holliday at gunpoint for 300,000 dollars in army payroll money and Graham for 2,000 dollars, in addition to her hand in marriage. They spend a lot of their time sizing each other up, not knowing how much to believe about the other while trying to catch up with Fiske, while Blake -- an army captain who's after Holliday for his alleged part in the robbery -- stumbles along a step or two behind them. These four end up playing cat-and-mouse across Veracruz, with Fiske always a half-step ahead, while police Inspector General Ortega (Ramon Novarro) calmly keeps tabs on all of them, trying to figure out (along with the rest of us) exactly who is on the level (in those days, especially after Out of the Past, there was no built-in assurance for audiences that Mitchum and Greer played characters with clean hands, and Mitchum is almost too good with the rough stuff here to be an obvious hero). Holliday and Graham engage in some surprisingly playful and suggestive banter during their travels, in between her keeping Holliday -- whose command of Spanish is less than minimal -- from adding too many new permutations to the phrase "the ugly American" in his dealings with the Mexicans. The mood is decidedly brisk and light-hearted at times, given the gunplay and violence that explodes at key intervals. The addition of John Qualen -- in one of the strangest roles of his career -- as a decidedly fidgety and neurotic presence in the last quarter of the story only adds to the undertone of quirkiness in this superb film noir.
Critic Reviews for The Big Steal
All Critics (3) | Fresh (3) | Rotten (0)
In this taut cat-and-mouse tale, all concerned are in top form.
Siegel packs lots of chases and action into 72 minutes, with a great ending.
Audience Reviews for The Big Steal
½
This is the second movie in a Film Noir Collection and its quite good. Robert Mitchun stars as Duke Haliday who appears to be on the run, chasing him is Army officer Captain Blake (William Bendix). It appears that Mitchum stole 300,000 dollars, this movie having been made in 1949 that's a huge chunk of change, but did he really steal it. Watch to find out, you will not be sorry, 4 1/2 stars
Bruce Bruce
Super Reviewer
½
A thief who robbed an army payroll makes his way through Mexico pursued by an ex fiancee he cheated out of $2000, the man falsely accused of the crime and an army officer looking to apprehend him. The Big Steal is more a colourful road movie than Film Noir and the breezy romance between Mitchum and Greer almost reminded me of It Happened One Night with guns. In fact there's very little else to the plot; just a long chase through some nice Mexican locations but its embellished with some interesting characters, snappy dialogue and solid car chases. Directed with typical economy by Don (Dirty Harry) Siegel in one of his earliest projects, The Big Steal won't change your world but it's a fun ride for it's brief duration.
A sort of round-about chase movie with an interesting cast and story. I liked it.
The Big Steal Quotes
There are no approved quotes yet for this movie.