Bird Box
(2018)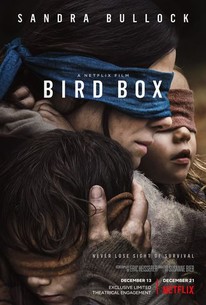 TOMATOMETER
AUDIENCE SCORE
Critic Consensus: Bird Box never quite reaches its intriguing potential, but strong acting and an effectively chilly mood offer intermittently creepy compensation.
Movie Info
When a mysterious force decimates the world's population, only one thing is certain: if you see it, you take your life. Facing the unknown, Malorie finds love, hope and a new beginning only for it to unravel. Now she must flee with her two children down a treacherous river to the one place left that may offer sanctuary. But to survive, they'll have to undertake the perilous two-day journey blindfolded. Academy Award (R) winner Sandra Bullock leads an all-star cast that includes Trevante Rhodes, with Sarah Paulson, and John Malkovich in BIRD BOX, a compelling new thriller from Academy Award (R) winner Susanne Bier.
News & Interviews for Bird Box
Critic Reviews for Bird Box
Audience Reviews for Bird Box
The film has definitely showcased its capability of being memorable through today's social media "meme-worthy" barrage. But it shouldn't go unnoticed how the aura of its ambiguity keeps Bird Box intimate and perilous throughout, especially with a strong and brilliant lead in Sandra Bullock. 4/5
Eugene Bernabe
Super Reviewer
½
When looking at movies like Avatar or even direct remakes of classic movies, it's a fair criticism to hate on it for being unoriginal, but in the same breath, there's also an argument to be made for why it also worked so well for audiences around the world. Familiar storytelling has been around since the beginning of cinema and isn't going anywhere anytime soon. Netflix's Bird Box is another example of this but done in an effective way. Taking the world by storm in the online community, this film has received quite a bit of praise by fans, and while I don't believe it's particularly that great, I did have positive viewing experience with it. This movie does many things right, but it stumbles quite a few times along the way. Here's why Bird Box may be worth your time, but also why there are plenty of other movies worth seeing first. The world has been overrun by a disease that has turned people into zombie-like creatures. With weird, unseeable figures making people kill commit suicide, the survivors have turned to wearing blindfolds to stay alive. Survival movies have been around forever and it's very rare that one does something new for the genre, and while Bird Box doesn't really do that, it tries to. Sadly, this movie is going to be compared to 2018's A Quiet Place, due to the fact that instead of not being able to look, that film was about not being able to speak or make a sound. On top of that, the ambiguity of A Quiet Place has been lost here and it really does feel over-explanatory on quite a few occasions. Bird Box begins with the main event having already happened and follows Malorie (Sandra Bullock) and two unknown children characters. I would've loved to see a survival film with these three characters for the full two hours, but the majority of this film actually takes place in the recent past, showing how this situation came to be. While that may work for some viewers, this was the main aspect that almost had me disliking this film. If it was just going to keep cutting away in order to beat the audience over the head with an explanation I would've been upset, but it does focus on the past more than the present. For that reason, I ended up becoming a little more forgiving, as some of the characters leading up to the present were very likeable. Sandra Bullock delivers a great performance here and held this movie together even through its weak moments. Joined by incredible talents in performers like John Malkovich, Sarah Paulson, and Jacki Weaver to name a few, the true standout of this film was Trevante Rhodes, in my opinion. Ever since his breakout performance in the Oscar-winning Moonlight, I have been rooting for him to become an A-List star. Even though that hasn't happened for him yet, I believe his time may still come. I think he's a very talented actor and his screen time with Bullock leapt off the screen. In the end, Bird Box isn't going to be remembered by most people as one of the best movies of 2018, but I can definitely see why people are loving it. It's a film that explores multiple genres at once and makes for a very enjoyable experience overall. I admittedly haven't seen the majority of Susanne Bier's work, which is mostly due to the fact that they're foreign movies that I have yet to seek out, but I have seen her previous American film in Serena, which was quite bad in my opinion, so Bird Box was a very nice surprise. I had a very good time with this film and I will absolutely be seeking out this director's previous works. I recommend a watching this on your free time, but it's not something demanding to be watched.
Raising inevitable comparisons to The Happening and A Quiet Place, this movie may not be a great example of originality but offers a very solid and often scary plot about parental protection (or overprotection) versus taking risks in a world of invisible, blinding dangers.
Carlos Magalhães
Super Reviewer
Bird Box Quotes
There are no approved quotes yet for this movie.