Bitter Feast
(2010)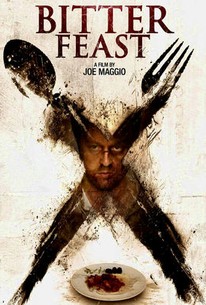 Movie Info
An angry foodie develops a taste for violence in this darkly witty thriller from writer and director Joe Maggio. Peter Grey (James Le Gros) is a chef who thinks he has what it takes to become a multi-media celebrity -- he runs a popular restaurant, he's the host of a cable television series called "The Feast," and he's in talks to design and endorse a line of high-end cookware. But while he knows food, Peter is also pompous, self-righteous and convinced he's smarter than everyone around him; Peter wants "The Feast" to carry a responsible environmental message, but his producer at the network (Mario Batali) just wants something that will attract viewers and advertisers, and pairs Peter with a pretty but thick-headed co-host, Peg (Megan Hilty). Peter is near the end of his rope when a well-known cuisine blogger, T.J. Franks (Joshua Leonard), gives his restaurant a scathing review, and soon "The Feast" is cancelled, the cookware company passes on its contract with Peter, and his restaurant closes due to bad business. Peter is certain Franks is to blame for this sudden flood of bad luck, and he kidnaps the blogger, determined to get some revenge, served bloody. Bitter Feast was an official selection at the 2010 Los Angeles Film Festival. ~ Mark Deming, Rovi
Rating:
NR
Genre:
,
Directed By:
Written By:
In Theaters:
On DVD:
Runtime:
Studio:
Critic Reviews for Bitter Feast
Audience Reviews for Bitter Feast
½
This is one of those movies where I could swear something similar was done before - or not. It may well be the Zeitgeist of the times is all. A puffed-up arrogant critic entirely lacking in empathy, writing increasingly harsher (and unfair) reviews, until one chef in particular is unlucky enough to incur the ire of his swollen gut and also happens to already possess a house of cards set to crumble with the least provocation. Then along comes a spider and knocks it all down. Luckily for the purposes of the movie, the victim also happens to have some seriously repressed issues which, when they do start to surface, emerge in cunning and cruelly 'civilized' fashion. After that, a certain ambivalence sets in and it can be difficult discerning which way Peter Grey's moral compass is heading. Not for long though - with a last name like Grey, it's pretty obvious we're dealing with a character more round than flat, with layers of subtlety and complexity strengthened by the moderately queer subtext, and strong performances by the two main characters. There is horror to be uncovered in Bitter Feast - it's beyond me how a New York Times critic would label this aspect of the film "cinematically inert," which doesn't make sense here. This movie is listed as Horror/Comedy. If you are looking to jump out of your seat, hold a partner's hand, or poop your pants then you better look elsewhere. For everybody else, Bitter Feast is likely to be a welcome addition to the genre and a pleasant 1hr 43 min. at that.
Charles Frauman
Started add promising with a different take on a revenge flick but kept getting less impressive through out the movie. It was entertaining enough to see what was going to happen but I felt that some of the acting was flat and only held my interest on what he was going to pull off next. And even that fell short coz there was no real 'punishment' the irony of the very end did make me feel alittle less cheated but over all just didn't go anywhere.
Bill Regan
**1/2 out of **** Most artists take criticism to heart. Some choose to let it serve a more positive purpose - as a guide for how not to screw up the next time (i.e. how to improve) - while others go nuts over trying to properly locate their own mistakes. There haven't been many films that have even thought about dealing with this seldom sought-after aspect of critic culture, but "Bitter Feast" might just be the little movie that could. An Independently-produced horror movie with satirical undertones and a demented sense of dark - make that very dark - humor, produced by Larry Fessenden and released under his production company Glass Eye Pix; the film had a hard time hitting the shelves, but now it has, and those who do enjoy it can keep on doing so. Indeed, most people will not see it; but I think as a film that takes some solid jabs at critics of all kinds - and making some appropriately scathing commentary on their lifestyles while it's at it - more people should seek it out. The artist is New York-based chef Peter Gray (James LeGros). The critic is JT Franks (Joshua Leonard). Peter lives a privileged life, living off the riches that his profession has granted him, but barely able to survive the actual job. You see, Peter hosts a television program called The Feast (with another woman, his co-host, who he openly hates); and it's not doing its best lately. That's where Mr. Franks comes in. He writes a very, very negative review of the restaurant - not the show that goes along with it - and soon after finding the publication online, Peter's boss fires him from the job. Of course, this leaves Peter particularly heartbroken, with virtually nowhere to go after this. He's a talented cook - and he often felt as if the show never quite lived up to his gifts - but he takes it upon himself to make madness and vengeance high on the list of his newest, deepest, darkest obsessions. Yes, you guessed it; he kidnaps JT Franks out of anger, and proceeds to chain him up in the basement of his farmhouse (Peter also owns a fancy apartment in the city, with an elevator). It is there that most of the action takes place; with Peter subjecting his victim to a seemingly never-ending string of psychological and physical torture. Most of the time, he's reversing their roles; asking Mr. Franks to cook for him, in front of him, and ultimately letting him be the judge of whether he is worthy of further survival. Such scenes can be appropriately menacing at times, even if they fail to truly get under your skin. I can safely say that the film is a mess, but hey; at least it's a well-acted, competently shot and directed mess. That's more than I probably could have ever asked for from a film so ridiculously uneven. "Bitter Feast" certainly lives up to the first part of its title; as it is dark, depressing, and never quite lets the audience know when it wants them to laugh and when it wants them to cringe (although the gore is a pretty damn good indicator of the latter). It borders on dark satire and serious horror at times; never really coming up with a good enough story and/or characters to maintain too much balance. Also, some scenes - including ones intended to provide backstories for the characters - are borderline terrible. Still, its entertaining most of the time, has an excellent premise; and now, all it lacks is satisfying execution. The mouth is overcome by a very odd taste after the film has been watched. I can't tell if that's a good or a bad thing; all I know is that it didn't completely agree with me. The film is all over the place, off-the-wall insane at times, but ultimately, I feel it lacks the kind of human insight into subjects such as psychotic breakdowns, mental illness, and the world of the negative critique that would have made it a fascinating watch instead of just an overall decent - but forgettable - one. I am happy that it is, well, this; instead of just a boring, mediocre, stupid indie flick. It could have ended up like that, but instead, it shows a lot of promise in its director, Joe Maggio. I hope he goes on to make something bigger and better in the near future. But for now, we've got this. A horror-comedy that comes short of greatness or even goodness; but still manages to provoke the instantaneous craving for eggs, steak, and human flesh. It could have been such a glorious feast.
Ryan Marshall
Super Reviewer
Bitter Feast Quotes
| | |
| --- | --- |
| Peter Grey: | He who seeks to unite them seeks to destroy existence. And your steak is overcooked. |
Discussion Forum
Discuss Bitter Feast on our Movie forum!