Black
(2005)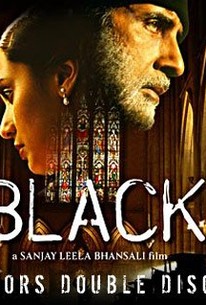 Movie Info
A deaf, mute and blind girl is assisted by her teacher, who helps her with her life. Rani Mukherjee.
Critic Reviews for Black
All Critics (6) | Top Critics (1) | Fresh (4) | Rotten (2)
It's the details that make the whole thing work, from the performances ... to its deadly honest observations that Michelle's disabilities would create obstacles that would reach far beyond her loss of sight and hearing.
Bhansali built a visually beautiful film around the story of "The Miracle Worker." It is hard to imagine such an elegant and satisfying film coming from the Bollywood system.
Audience Reviews for Black
I do not understand why this movie recieved so many awards. To base a movie on such famous and well-known tale is cliche. All I saw was a guy who's trying be Al Pacino, lead actress who can not act and NOT likable. (I know she's supposed to be blind, but what's up with Charlie Chaplin walk?) The music score cracked me up and all that emotional drama over every gesture! The movie went completely overboard!!
Cynthia S.
Super Reviewer
Nothing short of awesome. This is another outstanding Bollywood film. About a girl who is deaf and blind, and a man who spends his life (40 Years) teaching her so she can become independent. All acting is over the top. More American Directors should watch this and try to match the quality of this film rather then the simple trash they turn out. 5 Stars
Bruce Bruce
Super Reviewer
Here's a fantastic movie that follows the life of one woman who struggles to fit in with her family and the rest of the world. Despite her being deaf and blind, Michelle had much to overcome even in childhood when all she has ever known was darkness. She had obstacles to overcome, and endure when she first meets Mr. Debraj Sahai. As long as she had her teacher, she worked very hard to achieve every possible hurdle on her road to independence and self-sufficiency. As Mr. Sahai details, he had never taught the word 'impossible' and so this enables Michelle to strive further. Great cast- Amitabh Bachchan and Rani Mukherjee stars. Great music. Definitely worthy!
Black Quotes
There are no approved quotes yet for this movie.