Black Devil Doll
(2007)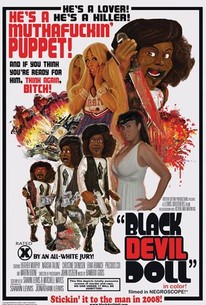 AUDIENCE SCORE
Critic Consensus: No consensus yet.
Movie Info
This blaxploitation extravaganza peddles wall-to-wall grindhouse glee: there's nudity, gore, a Ouija board gone awry, and a possessed, smack-talking ventriloquist dummy. When a gaggle of sexy teens try their hand at summoning the dead, they accidentally unleash a murderous (and libidinous) spirit that won't rest until plenty of blood is spilled.
Critic Reviews for Black Devil Doll
All Critics (3) | Fresh (3) | Rotten (0) | DVD (1)
...this outrageous example of Joe Bob Briggs' patented "three Bs - breasts, blood, and beasts" is so insane, so silicon injected and silly that it's almost impossible to take seriously.
Director Jonathan Lewis managed to put together a hilarious, over-the-top, sex-filled gorefest on a shoestring budget -- and somehow managed to afford James Bond-style opening credits for the event.
This film was MADE to be seen in a dripping, shitty Grindhouse held together with paint and cockroach droppings.
Audience Reviews for Black Devil Doll
½
When a girl gets bored and decides to play with a Ouija Board little did she know what kinda evil she was gonna unleash of course this evil comes in the form of a out of control puppet like chucky only more out of control now the puppet wants her friends so she asks them to come over what will happen to the friends? to her? to anyone else that comes in contact with this out of control puppet? all these questions will be answered to anyone thats willing to sit through this movie. Now i enjoyed this movie alot but this isnt gonna be for alot of people you need to enjoy B movies cheesy movies movies that leave you saying what the hell did i just spend a hour and half lookin at if any of these apply to you then please check this out Highly Recommended
Ahh where do I begin? I had been following this movie for probably over a year, and since I first saw the hilarious looking trailer, I had put it at the top of my list with movies to see, along with Bad Biology. And I remember that the DVD was supposed to be released last year, and I was disappointed to find that they delayed the release, but I am happy because I got to experience Black Devil Doll on the big screen, in a theater, the way it should be seen. And it was more than worth the wait. Trust me. This movie is like no other film you have seen in your life, trust me. And you will never see a film like this again. And that is more than a good thing. This film is definitely not for the easily offended, not for the faint of heart, not for those who are easily grossed out, and you get the idea. Full of nudity, violence, gore, and more awesomeness, this must be the most fun I have had in a theater since I saw Poultrygeist. There are scenes that will make you scream OH MY GOD, scenes that will make you laugh your butt off, and scenes that are just plain wrong. It all adds up to one hilarious fun time. I must also add that the score from Giallos Flame is excellent, 70's style music. From the credits, I knew I was in the presence of greatness. The black devil doll is one of the most entertaining characters in film history, and will be sure to make you laugh. Whether you like the movie or not, you will be entertained. Just know what you are in for. It is sick, twisted, funny, gross, and so wrong, but oh, so right. I really wish there were more movies like this. It screams sequel!
Cassandra Maples
Super Reviewer
Black Devil Doll Quotes
There are no approved quotes yet for this movie.