Black Knight
(2001)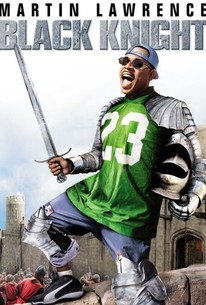 Movie Info
Screenwriter Darryl Quarles follows up his smash hit Big Momma's House (2000) with another raucous Martin Lawrence collaboration. Lawrence stars as Jamal Walker, an employee at a medieval-themed mini-golf course who wakes up in 14th century England after a blow to the head. Jamal has soon allied himself with a peasant girl and a broken-down ex-knight to defeat the evil King Leo (Kevin Conway) and his bullying minion, Sir Knolte (Tom Wilkinson). In the meantime, Jamal busts some modern dance moves on the medieval dance floor and encounters such intriguing residents of the period as knaves, peasants, archers, jousting knights, maidens, a princess, and even a giant. Black Knight (2001) is the sophomore directing vehicle of longtime television producer Gil Junger, who joins Lawrence in replacing the team originally attached to this comic vehicle, director F. Gary Gray and star Chris Tucker. ~ Karl Williams, Rovi
People Who Like this movie also like
News & Interviews for Black Knight
Critic Reviews for Black Knight
Audience Reviews for Black Knight
Josh Lewis
Super Reviewer
While it's not one of the best comedies I've ever seen, it's still really good. Some nice fight scenes, some great humor, a good script for a comedy. I thoroughly enjoyed it, and it deserves a bit better than 14%. Granted, there were a few scenes that weren't that funny. The extremely forced "Dance to the Music" scene in the castle was probably the films lowlight. Most of the other jokes at least bring a smile though. Also, the film seems to take a little to long to get to it's point. Luckily there is some good. Most of the jokes were actually pretty funny, and one or two were laugh out funny. It seems to be less of a great script as it is funny actors. I guess this was before Lawrence started to get really unfunny with movies like "Rebound", becuase he actually does a really good performance. For a comedy, the plot is pretty cool. You'll have to see the movie though. I think it was a parody of "A Kid in King Arthur's Court" and a really good one. Over all, is it amazing? No. But it's enjoyable, and a good movie to see if you have a Martin Lawrence obsessed friend/girlfriend/boyfriend.
Marc Lewis
Super Reviewer
More comical than expected, lots of predictability, but a light hearted, easy watching, no brainer
Lady D'arbanville
Super Reviewer
Discussion Forum
Discuss Black Knight on our Movie forum!