Black Lightning (Chyornaya Molniya)
(2009)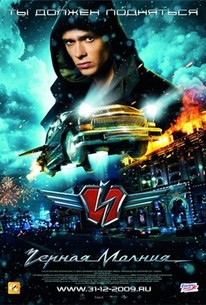 AUDIENCE SCORE
Critic Consensus: No consensus yet.
Black Lightning (Chyornaya Molniya) Photos
Movie Info
As co-directed by Alexander Voitinsky and Dmitry Kiselev and produced by Timur Bekmambetov, the Russian-language science fiction thriller Black Lightning concerns a student, whose life turns a bizarre corner when he learns that the battered car he received from his father is capable of flight. He instantly assumes an alternate identity, as a crime-fighting superhero named 'Black Lightning,' and watches his reputation at school shift from outcast to Mr. Popularity, overnight. Meanwhile, villains learn of the car's capabilities and will stop at nothing to get their hands on it.
Critic Reviews for Black Lightning (Chyornaya Molniya)
All Critics (1) | Fresh (1) | Rotten (0) | DVD (1)
There is not necessarily anything very new in this film...However, this does not make it boring. On the contrary, its particular Russian take on the genre keeps it exciting
Audience Reviews for Black Lightning (Chyornaya Molniya)
½
A fun idea, but a lot rough around the edges. The flying car was very hoaky looking to me (while flying). This movie reminded me of an old Disney film..like watching Chitty Chitty Bang Bang superhero style! The young actors did a really good job, and I was very impressed with the lead Grigori Dobrygin. I wouldn't be surprised if America got a hold of this story, and perfected those special effects...
Cynthia S.
Super Reviewer
½
A young student happens upon an old automobile that was a prototype for a new energy source and uses its unique abilities to fight crime in his hometown of Moscow. There's one thing Black Lightning cannot be accused of and that's originality. A poor, dorky student vies for the affections of his sweetheart with his richer, more popular friend even though she harbours feelings for the masked hero, and he decides to fight crime after his do-gooder father figure is murdered by a mugger after his selfish actions make him fail to intervene. Stan Lee's lawyers must be rubbing their hands with glee. Add to that the fact that although the special effects are quite good and the aerial action scenes pretty well done, they are almost identical to those of Iron Man and Black Lightning's astonishing lack of imagination really begins to nettle. It's actually like a diluted, kiddified version of the two Marvel franchises, which considering those films are far superior and both rated PG 13 anyway makes this film seem utterly redundant. It's not an awful film by any means, but quite why anyone would choose it over Iron Man, Spider Man or even The Rocketeer, I have no idea.
½
Enjoyable and fast paced Russian fantasy film although it's highly derivative of Spider Man and suffers from one too many logic issues. Still, worth a look if you're into Timur Bekmambetov style visuals or the aforementioned super hero film with a ruskie flavor.
A.D. Villarreal
Super Reviewer
Black Lightning (Chyornaya Molniya) Quotes
There are no approved quotes yet for this movie.