Black Sheep
(2006)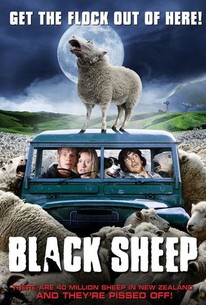 TOMATOMETER
AUDIENCE SCORE
Critic Consensus: With an outrageous premise played completely straight, Black Sheep is a violent, grotesque, and very funny movie that takes B-movie lunacy to a delirious extreme.
Movie Info
A fluke of genetic engineering turns New Zealand's chief farm animal into a scourge of bloodthirsty killers in this comedy horror by Jonathan King. Glenholden Station has been a family owned farm for years, but in the hands of a new owner, the shepherding methods of old are being replaced with cutting edge technology. Building a better sheep through science sounds like a fine idea--that is, until it all goes horribly wrong and the most common four footed animal in New Zealand becomes a national terror.
People Who Like this movie also like
News & Interviews for Black Sheep
Critic Reviews for Black Sheep
Audience Reviews for Black Sheep
Daniel J DeMersseman
Super Reviewer
Deranged killer man eating sheep, sheep?! there are only two countries in the world where you could imagine this being set, Wales or New Zealand. I will spare you the obligatory sheep shagging jokes despite the fact this film actually uses that crude old low brow country laugh for the backstory of one main character. So a dodgy sheep owner on a farm is carrying out dodgy genetic experiments on his sheep to turn them into carnivores. Naturally a couple of people steal a mutant lamb to try and expose this but they accidentally release it causing a mass infection of the sheep. So its pretty much any infectious zombie flick you can think of but replace dead humans with mutated sheep. Sounds insane and it is, but I guess animals of such vast numbers like sheep, cows, chickens, pigs etc...would be perfect for this type of genre. If you think about it they are the most unlikely creatures that humans would be worried about, so there would be the under estimation of danger along with their sheer numbers. This film is labelled as a horror comedy and has clearly been influenced by 'American Werewolf in London'. The sheep are like weresheep, their bite turns people into half sheep half human bipedal freaks that look like zombiefied monster sheep, plus the blood and gore is through the roof with some great hands on makeup effects. There is even a homage to the classic moment in 'American Werewolf' where David transforms and we see his face n body extending with cracking bones. This is pretty much copied here (mainly the face) and looks just as good I might add. Not your average horror and not really scary, more of a fun idea (possible homage) showcasing some great makeup effects and good use of some real flocks. What I'm waiting for now is the same thing again but for pigeons in London, seriously it could work.
Phil Hubbs
Super Reviewer
½
In this New Zealand horror thriller, genetically changed sheep go rampage. That shows all trademarks of Peter Jackson's early gore-fests but is not entirely as groundbreaking. While the silliness is intended its often a tad too predictable to be entirely satisfying.
Black Sheep Quotes
| | |
| --- | --- |
| Experience: | What's that noise? |
| Henry Oldfield: | Somebody's shearing. |
| | |
| --- | --- |
| Henry Oldfield: | What are you doing in here? |
| Angus Oldfield: | You wouldn't understand. |
| | |
| --- | --- |
| Henry Oldfield: | You fucker! |
| Angus Oldfield: | Actually it was a sperm sample. |
| Henry Oldfield: | You wanker! |
| | |
| --- | --- |
| Experience: | What is wrong with you? |
| Henry Oldfield: | Ovinophobia, my therapist calls it. |
| Experience: | Well, what's that? |