Black Venus (Venus Noire)
(2011)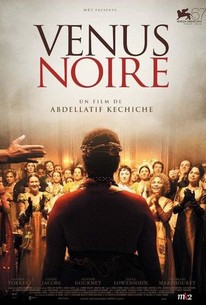 Movie Info
A woman turned into a sideshow attraction by those who imagine themselves her superiors struggles to maintain her dignity in this drama based on a true story. Sarah "Saartjie" Baartma (Yahima Torres) was born in South Africa but found a certain fame in Europe in the first decades of the 19th century, as she was exhibited like a sideshow attraction by Hendrick Caezar (Andre Jacobs), who billed her as "The Hottentot Venus" and encouraged audiences to view her as part human, part animal. Baartma performed like a trained animal under Caezar's direction, and sometimes she was required to appear nude before the crowds as spectators were allowed to touch her buttocks and genitals. When reporters condemn Caezar's exploitation of Baartma, she declares in court that she's acting of her own free will, but she's hesitant to explain why she allows herself to be treated so poorly. When Baartma's partnership with Caezar comes to an end, she finds herself working with a French showman, Reaux (Olivier Gourmet), who is even less scrupulous as he parades her before slumming French aristocrats, and later she is at the mercy of Georges Cuvier (Francois Marthouret), a scientist who uses her as part of his vile experiments in hopes of proving Africans are racially inferior. Written and directed Abdellatif Kechiche, Venus Noire (aka Black Venus) received its North American premiere at the 2010 New York Film Festival.
Critic Reviews for Black Venus (Venus Noire)
Audience Reviews for Black Venus (Venus Noire)
A devastating and emotionally exhausting film that exposes without concessions (almost like a documentary and with the use of extreme close-ups) the real-life suffering of a poor woman brutally exploited, humiliated and treated like an animal for other people's pleasure.
Carlos Magalhães
Super Reviewer
½
'Black Venus'. Based on the story of Sarah Baartman, whose body was sickeningly, and continuously exploited by all the men in her life at the turn of the 19th century. Confronting, saddening, very difficult to watch at times, with an astounding lead performance. Did run a little too long though.
Black Venus (Venus Noire) Quotes
There are no approved quotes yet for this movie.