Bleed
(2016)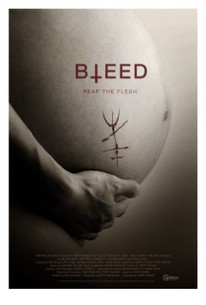 Movie Info
It seemed perfect - a new house, a new marriage, a child soon to be born. But when Sarah and Matt invite their friends to celebrate, the situation turns deadly as they enter a burned-out prison on a ghost hunt. As the six friends encounter horrors of this world and beyond, no one is safe - not even the unborn.
Audience Reviews for Bleed
½
So it looks like my October horror fest, each year I try to watch all horror movies during this month (if I can), has started off with a whimper instead of a bang. Maybe I should have gone with one of the classics like the Exorcist to just start things off on the right foot. Though, honestly, this isn't that bad of a movie all things considered. It's just one whose narrative reach exceeds its grasp. Though, to be fair, that might not be the best way to describe the movie. It's just that the movie wants to do certain things without actually putting in the effort to even come close to try to explain them. But, by and large, if you take that out of the equation, and just focus on the horror itself and the idea behind the horror and what it wants to achieve as it relates to scares, then this is, really, a very decently made horror flick. Though, of course, it's also absurd that I'm telling you to ignore parts of the narrative that don't make any sense or are left unexplained. As I mentioned earlier, there are just elements, like what the hell is the entire town is even doing with these people that have these birthmarks on them. Why are they special and why are they essential to what the town is doing? I know it involves impregnating a woman, to continue the cycle I suppose. The question you may have, though, is what cycle do these people wish to continue? Your guess is as good as mine, because they never give you a clear answer. It's a Satanic-esque cult, I know that much. But that's about it. Outside of that, though, the movie offers fairly basic horror fare, though there's some pretty cool moments here and there, there aren't enough of them to sustain an entire film, that much was obvious. Another thing holding the film back, while it does have a decent idea that they do not go as far with as they could, is that the acting by some of the cast is really fucking bad. Which is weird seeing that, at least out of some of the main cast, the acting is pretty solid all things considered. So it's a bit of a disconnect seeing some decent actors and then seeing some truly awful actors. Thankfully, though, those awful actors aren't always present in the film's events, but when they're there, they definitely make their presence felt. They do help at dragging things down, though they don't drag it down more than the film's unwillingness to really put any thought into their villains' motivations for their actions. It is what it is, and even with those flaws, I still found the movie to be pretty decent once the horror picks up and you ignore the narrative elements. Though I realize that not everyone is gonna be able to do that. Can't fully recommend it, but it could have been much worse.
Jesse Ortega
Super Reviewer
Bleed Quotes
| | |
| --- | --- |
| Matt: | "Somehow a full moon makes that a good idea?" |
| Matt: | Somehow a full moon makes that a good idea? |
Discussion Forum
Discuss Bleed on our Movie forum!